If you haven't played the excellent Hard Lines from Spilt Milk Studios yet, you're missing out on an excellent fusion of Snake, Geometry Wars, a thumping soundtrack and some unexpectedly witty writing. In the words of the developers, it's "literally the funniest game you will ever play that has a glowing yellow line as the main character."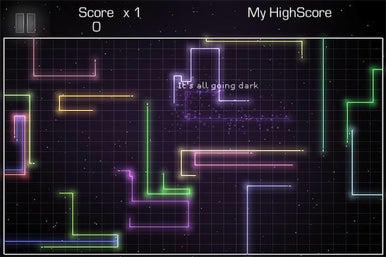 But on June 23, something went terribly, terribly wrong. In updating the game to be compatible with older devices and revisions of iOS, Spilt Milk introduced what it called a "horrendous crash bug" and managed to upset quite a few customers in the process.
The next day, the team pushed out a fix including Retina display support and all was well with the world, but the crew decided that it wanted to make it up to the community a little more.
As such, Spilt Milk has provided two exciting and fun things for people to enjoy. The first is an official piece of Spilt Milk papercraft. And alongside this, the company is running a competition to give away 10 free copies of the game.
All you need to do to be in a chance with winning a copy of the game for your iOS device is to send the company a picture of your finished papercraft. There are no specific requirements other than the fact that the papercraft must be featured somewhere—and not necessarily put together particularly well. Get your entries to Spilt Milk via email, Twitter or Facebook before July 15.
If that all sounds a bit too much like hard work for your liking, you can just grab a copy of the app for $2 from the App Store right now.