In January, Macworld released our very first iPad app, Macworld Daily Reader. Now we've released an update that adds breaking-news alerts, improved readability performance, and more. It's available now for free on the App Store.
The updates in this version of Macworld Daily Reader are the ones that our users asked for most. Text is clearer throughout the app, and font size is now adjustable on section pages as well as story pages. We've added a breaking-news option that will send you push notifications when we post important Apple-related information. Multitasking support means the app will re-open immediately when you've used it recently. Our live news ticker now behaves like a cable TV-style news ticker, showing you the latest stories and tweets from Macworld even before you expand it.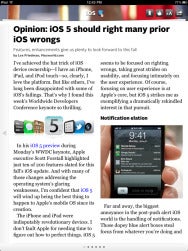 When we launched Macworld Daily Reader in January, it quickly went to number one on the App Store's iPad app chart. The app isn't our monthly magazine—instead, it's intended to fill a niche in between our web site and the magazine. A month is a long time to go without new stuff from Macworld. But some people don't really want to drink from the fire hose of Macworld.com, where we tend to post more than 20 stories every day.
That's where Macworld Daily Reader comes in. It provides a rich, curated view of what Macworld's doing on the web. In an interface that's more like a newspaper app than a magazine, you can use the landing page to scan the most important articles of the day, as prioritized by Macworld's editors. Tap to read a story in our iPad native reading view. Or swipe to the right to see stories in our six other "sections," organized by topic: Mac, iOS, Digital Photo, Business Center, Playlist, and Create.
There's much, much more that we want to do with the app—we recently hired a full-time iOS developer here at Macworld, so the pace of updates should accelerate. We've already got a list of future improvements a mile long, but we know your readers will have your own suggestions. Mail your comments and suggestions to dailyreader@macworld.com.