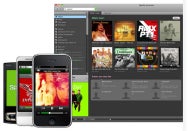 The European streaming music service, Spotify, has announced that it's officially coming to the U.S. Travel to Spotify's website and you'll see these words:
"The award-winning music service that's taken Europe by storm will soon be landing on US shores. Millions of tracks ready to play instantly, on your computer and your phone. Any track, any time, anywhere. And it's free!"
The most important statement here is "And it's free!" Subscription music services such as Rhapsody, Napster, MOG, and Rdio, which are currently available in the U.S., are not free—you pay between $5 and $10 a month depending on the kind of access you want. Were a service such as Spotify to hit our shores with the ability to stream music for free, it could drastically change the way people feel about music subscription services.
The key question is "How free?" I contacted Spotify to find out and was told "We're not commenting on the specifics of the service at this stage." But recent changes to Spotify's terms abroad provide a hint.
At one time you could listen to anything you liked on Spotify for free, as the free service was supported by advertising. That's now changed. If you started using Spotify after November 1, 2010, you were given six months to use these service as before—stream any music you liked, with ads. But after those six months you could play a single track no more than five times and were limited to 10 hours of free listening per month. This is still better than the free trials offered by the other services—Rdio and Napster offer a 7-day trial period while Rhapsody and MOG offer 14-days of free listening. And, unlike with a service such as Pandora you can choose exactly the music you want to listen to.
Streaming and downloading to mobile devices and higher bit rate streams remain part of Spotify's Premium service, which costs €10 a month in its supported countries (Sweden, Spain, Norway, Finland, France, the Netherlands, and the United Kingdom). An Unlimited plan is also available for €5 a month. This allows ad-free unlimited listening, but it doesn't offer support for mobile devices or higher bit rates.
Spotify's charms aren't limited to its free content. Like other streaming services, it has a catalog of millions of tracks. It has a strong social networking component that allows you to easily share tracks and playlists with others. Like other services of this ilk, you can tune into stations and channels of music you might like based on other music you enjoy. And it has dedicated applications for browsing and listening to Spotify's catalog (services available in this county invariably rely on a Web browser for this sort of thing).
However, regardless of how pleasant the service is to use, "free" is what attracted European users to Spotify in the first place and encouraged more than a million people to sign up for the Premium service. It's possible that even with limited free options in this country, those in the U.S. may change their view of how desirable subscription music services can be. At the very least, Spotify's entry into the domestic market will encourage other such services to compete with the features Spotify brings to the table.