Back in 2008, Steve Jobs referred to Blu-ray as "a bag of hurt" due to the complex licensing surrounding the high-definition video format. Since then, no Mac has shipped with a Blu-ray drive inside, and watching a Blu-ray movie on a Mac using an external player hasn't even been supported by OS X.
In the past, we've written about Blu-ray ripping on the Mac, a workaround that would allow you to watch such movies. With the release of Macgo's Mac Blu-ray Player, watching a Blu-ray disc on a Mac is finally possible.
Well, in theory anyway.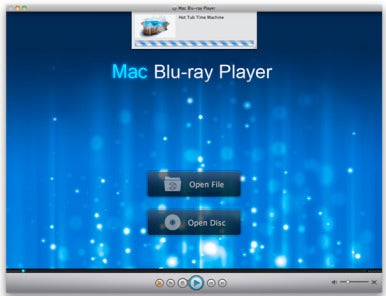 The $40 software works in conjunction with a third-party Blu-ray player, although the company doesn't list any such players or even system requirements for playback. I hooked up an MCE 8X Blu-ray Disc External Recordable Drive ( ) to a Mac Pro running OS X 10.6.8 via USB to test it out. (For those who care, it uses the Matshita BD-MLT SW 5584 mechanism.) I downloaded the free trial version of the software, which the site says is free to use for three months. (The poorly translated FAQs also state that the trial version includes a watermark on playback, but I never saw one.)
First off, it's important to note that in order to watch Blu-ray movies, you need to be connected the Internet so that the software can decode the copy-protection used on the discs. So yeah, there's that.
I inserted a Blu-ray movie, Oliver Stone's W., and launched the app. I clicked the Open Disc button (there's also an Open File button for playing all sorts of local video files), selected the Blu-ray disc in the Finder, and watched as it quickly loaded and began playing the movie. The software seems to auto-sense the movie file on the disc and plays it without presenting you with a menu—in fact, I couldn't find any way to even bring up the disc's menu to select additional content.
At the bottom right, there are buttons labeled Title, Sub, and Audio. The Title button did nothing when I clicked on it, while the Sub button brought up a display offering a choice of subtitle tracks on the disc, and Audio gave me a similar display for audio tracks. Because they are labeled as "Audio 1" or "Subtitle 2", you have no idea what you're actually selecting.
The video itself looked fine when it played properly, but it stopped and started constantly, and often displayed with huge, ugly artifacts. And at times, the app would freeze completely and require a force quit.
Just to make sure it wasn't a problem with one Blu-ray disc, I tried some others. With Hot Tub Time Machine the results were much, much worse. It got a few seconds into the United Artists logo before the movie and completely froze playback. On several attempts. With David Cronenberg's The Fly, playback was generally better—but the software played the 'making of' movie instead of the actual film. I thought there might have been a preference to help with the movie selection, but—wait for it—the Preferences item didn't do anything when I selected it.
To be nice, I also tested the software with a standard DVD and it failed to even open the disc. I quit the app and tried again, and this time it worked. I tried playing that same DVD using OS X's built-in DVD Player app (using the same external drive) and had no problems. Which makes me wonder why you'd ever want to use this app instead of DVD Player for such purposes.
That three-month trial period the company is offering? I think that's so you can be beta testers for its not-ready-for-prime-time software.
[Hat tip to Cnet's Topher Kessler for pointing out the software in a MacFixIt post.]