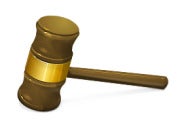 A judge has denied Apple's request for an injunction preventing Amazon's use of the term "App Store." That means Amazon is free to continue using the "App Store" name to describe its own store for more than a year; the trial for Apple Inc. v. Amazon.com won't start until October 2012.
Apple's request for a preliminary injunction would have blocked Amazon's use of the "App Store" term until after a verdict in the trial itself.
Apple first filed its suit back in March, when Amazon launched its Appstore for Android. Apple has alleged that Amazon's use of the term could "confuse and mislead customers." Apple was previously awarded a trademark for the term "App Store," and another big Seattle-based tech company has sought to get that trademark invalidated.
In Wednesday's ruling, U.S. District Judge Phyllis J. Hamilton wrote:
The court finds that Apple has not established likelihood of success as to the infringement claims… The court does not agree with Amazon that the mark is purely generic, for the reasons argued by Apple, but also does not find that Apple has shown that the mark is suggestive, as there appears to be no need for a leap of imagination to understand what the term means… Apple speculates that Amazon's App Store will allow inappropriate content, viruses, or malware to enter the market, but it is not clear how that will harm Apple's reputation, since Amazon does not offer apps for Apple devices.