At a Glance
Expert's Rating
Pros
Slight improvement in JavaScript performance
Modestly better compliance with HTML5
Still an all-around fun and useful browser
Cons
Basically identical to Firefox 4
Promise of CSS animation support falls short
Our Verdict
With Firefox 5 , Mozilla shifts to a faster release schedule, emulating the lightning pace at which Google's Chrome gains version numbers. Version 5 debuts mere months after Firefox 4, and Mozilla promises that future editions will arrive with similar speed.
But based on Firefox 5's paltry slate of notable new features, I'd say this swift increase in version numbers is mostly marketing. Firefox 4 represented a huge leap forward for the browser. Firefox 5? More like a small step or two.
Not much new, but still no slouch
In addition to security, stability, and other under-the-hood fixes, Firefox 5's release notes promise support for CSS animations, which Firefox 4 partly implemented. Alas, this feature remained half-baked for me. All the demos in Mozilla's documentation on CSS animation worked in my tests, but many demos I found on outside sites did not. Firefox 5 still doesn't seem to support the CSS 3D transforms used in some of CSS animation's niftier applications.
Mozilla also touts Firefox 5's improved WebGL code, which enables 3D graphics over the Web. Most WebGL demos I tested worked beautifully, even those built for Chrome, although one of the latter choked hard enough to briefly lock up my whole computer.
I also noted intermittent slowness when trying to scroll on certain pages with large or multiple Flash animated ads. On some sites, this presented a notable problem that Safari ( ) and other browsers lacked; on others with similarly complex design, Firefox 5 performed just fine.
Beyond that, Firefox 5 is, well, basically Firefox 4—a fast, responsive, fun browser with a few great ideas (like App Tabs) and a few uninspired ones (Tab Groups, I'm looking at you). I still enjoyed using Firefox 5 for daily browsing, and I still think it's a huge improvement on version 3, and a challenge to Apple to make Safari's next edition truly great.
Benchmarks: Firefox 5
| Browser | XHTML | SunSpider JavaScript | CSS | Acid3 | CSS3 Selectors | HTML5 Compliance |
| --- | --- | --- | --- | --- | --- | --- |
| Firefox 5 | 1.54s | 355.3ms | 280ms | 97 | 41 | 286/9 bonus |
| Firefox 4 | 1.52s | 356.7ms | 230ms | 97 | 41 | 255/9 bonus |
| Safari 5.0.5 | 0.55s | 430.2ms | 34ms | 100 | 41 | 253/7 bonus |
| Opera 11.5 | 1.7s | 416.4ms | 280ms | 100 | 41 | 286/7 bonus |
| Chrome 12.0.742.100 | 0.70s | 411.2ms | 59ms | 100 | 37 | 327/13 bonus |
On a 2GHz aluminum MacBook with 2GB RAM, Firefox 5 posted better benchmark scores than version 4 in some areas, but performed worse in others.
Firefox 5's SunSpider JavaScript benchmark score of 355.3 milliseconds did edge out Firefox 4's 356.7 milliseconds. It also outperformed the entire current pack of major Mac browsers, including Safari 5.0.5, Chrome 12, and the new Opera 11.5, by markedly wider margins.
Firefox 5 also fulfilled Mozilla's promise of improved HTML5 support, scoring 286 points and 9 bonus points out of 450 in an online HTML5 compatibility test. Firefox 4 only managed 255 points and 9 bonus points. While Firefox 5 tied Opera's score here, and beat Safari's by more than 30 points, it lost to Chrome by nearly 40 points.
Like its predecessor, Firefox 5 comes up short on the Acid3 Web standards test, scoring 97 out of 100. Every other browser in my test earned a perfect score. However, Firefox 5 did score 41 out of 41 in a CSS3 compatibility test, joining the similarly flawless Safari and Opera in beating Chrome's score of 37.
XHTML and CSS performance provide Firefox 5's biggest letdown. It posted slightly slower scores in both than Firefox 4 did, finishing second-to-last to Opera in XHTML rendering speed, and tying Opera for dead last in CSS speed.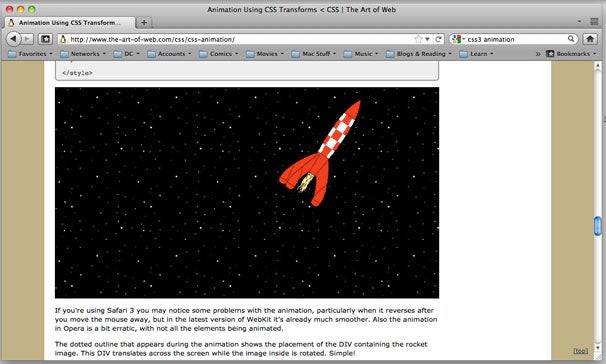 Macworld's buying advice
If you were using Firefox 4, chances are you already have Firefox 5, thanks to Mozilla's auto-update mechanism. If you're still using some flavor of Firefox 3, you have every reason to upgrade to this dramatically faster and more usable version. And if you prize JavaScript performance above all else, you may not find a faster Mac browser than this. Just don't go into Firefox 5 (or, in all likelihood, at least some of the program's future versions) expecting the same dramatic improvements the last version enjoyed.
[Nathan Alderman is a writer, copy editor, and all-around ingrate in Alexandria, Va.]