The "golden master" of Lion (Mac OS X 10.7) has been released to developers, which means it won't be too long before the new OS will be in the hands of consumers. When it is, among Lion's over 250 new features is one that's generating quite a bit of hand-wringing (or, in this case, finger-wringing): a new way of scrolling. More specifically, the default scroll direction in Lion is backwards—at least compared to the way we computer users have come to think of scrolling.
According to Apple, "When you scroll or swipe in Lion, content now moves in the same direction as your finger." In other words, drag two fingers downward on a MacBook's trackpad or Apple's Magic Trackpad ( )—or spin your mouse's scroll wheel towards you—and the content of the current document or window scrolls down, as well. This is exactly the opposite of how it's worked since the mouse scroll wheel debuted over 15 years ago.
We can debate whether or not this is a good change—and I'll soon be adding my own two cents on the topic—but it's the default behavior in Lion. And while Apple has provided a simple setting in System Preferences to revert scrolling back to the traditional behavior, it's safe to say that Apple sees Lion's approach as the future. So there's an argument to be made that we should start embracing it. (When the inevitable touchscreen Macs come along, it will certainly make a lot more sense.)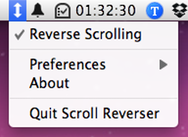 But you don't have to wait for Lion's debut to start getting used to "reverse" scrolling. Thanks to a new utility, you can get yourself ready for Lion scrolling while you're getting your Mac ready for Lion. Scroll Reverser is a simple utility that, when running, places a new menu in your menu bar that lets you choose your scroll behavior. Choose Reverse Scrolling, and your Snow Leopard will act like a Lion—at least as far as scroll direction goes. The utility even reverses horizontal scrolling—drag two fingers across your trackpad to the left, and onscreen content moves to the left, as well.
If you're anything like me, it won't take too long to adjust to this new behavior when using a trackpad, but reverse scrolling will continue to feel, well, backwards for quite a while when using a mouse's scroll wheel (or the scroll ring on a large trackball). So you may as well get a head start on acclimating yourself while we all wait for Lion to ship.