Editor's Note: PCWorld's Tony Bradley is spending 30 days with the iPad, using Apple's tablet as his sole computing device. In this installment from the Net Work blog, he looks at contact management on Apple's tablet.
One of the most important functions of my PC is to store and manage my contacts. Today for 30 Days With the iPad, I want to take a look at the tools available, and see if the iPad has what it takes to tackle this critical task.
The default option, of course, is the Contacts app in iOS. Populating the Contacts is simple—I just set my iPad to sync contact data from Microsoft Outlook on my PC when I sync the device in iTunes. Voila!
The Contacts app displays an alphabetical list of all contacts on the left. The details for the currently selected contact are shown on the right, and basically include the standard phone numbers, email addresses, and mailing address.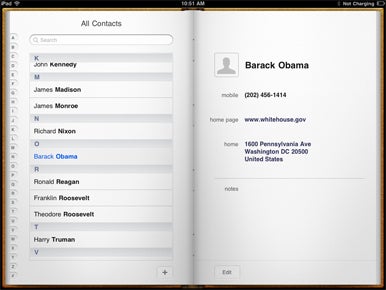 The app lets you add a photo to the entry so you can easily identify people. It is also possible to do more with Contacts, like add a person's instant messaging info, birthdate, or other relevant dates, but it is not obvious. When you edit a contact there is a field labeled "add field", and it is behind this generic label that you can add more details.
The Contacts app on the iPad is probably fine for most people. Just sync it with Outlook, or Google Contacts, or whatever you've been using to manage the people in your life, and you will have the basic information with you on the iPad. I need something more robust, though. I don't just want a list of names and phone numbers, I want a way to organize and manage different groups of contacts.
In theory, you can group contacts—family, customers, co-workers, etc.— to make it easier to search for specific people. However, that function apparently doesn't work in iOS 4 if you are using Exchange or Google. If you use a Mac, there may be a way to add or edit groups on the PC, but I don't have a Mac, and I am trying to use the iPad as a replacement for my PC anyway, so solutions that require the PC are not valid for this experiment.
I checked out Bento. Bento is much more than an iPad address book, and I like the app in general—but I don't really like the Address Book function. It is very similar to the iOS Contacts app in look and feel, with the addition of default fields for those tidbits of information like birthdate that require some digging in Contacts. Bento doesn't have the FaceTime button to initiate a video chat directly from the contact entry, though, so it is actually a little less functional than the iPad Contacts app.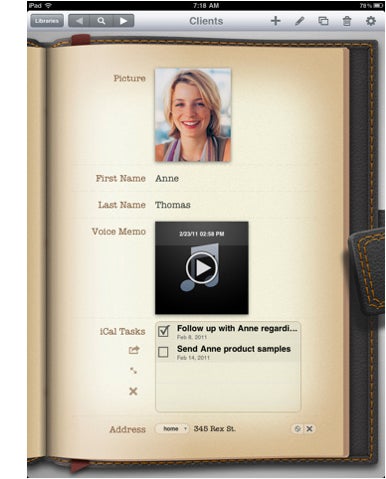 For users who also have the Mac OS X version of Bento, the Bento iPad app is nice because it keeps everything in sync. Overall, though, I don't see any compelling reason to choose this over the iPad Contacts app, and it still doesn't deliver the features I am looking for.
I use an app called VIPorbit on my iPhone. I have the VIPorbit app on my iPad as well even though it is an iPhone app. Like the Google+ Circles paradigm, VIPorbit takes the approach of setting up contacts in one or more "orbits". For example, I have orbits for "Family", "Friends", and "PCWorld" (among others). If a member of my family also worked with PCWorld, they could be placed into both orbits simultaneously.
The VIPorbit contact information includes the standard photo, phone number, and email address, but it offers a little more. VIPorbit was developed by one of the co-creators of the popular ACT! contact database software for the PC, and it brings that same level of relationship management to iOS.
The iPad Contacts app may be fine for most, but I prefer the more robust features of VIPorbit.
VIPorbit has fields for Facebook, Twitter, and Skype info for your contacts, and you can initiate phone calls, emails, SMS text messages, Facebook updates, Skype calls, or Twitter tweets to a given contact directly from within VIPorbit. VIPorbit also maintains a calendar, and logs activity (calls, meetings, action items, etc.) related to a contact.
I am choosing to invest my time building my contact database within VIPorbit because I appreciate how the app enables me to stay in touch, and stay on top of events all from one place. I am not happy about using an iPhone app on the iPad—I have already mentioned I am not a fan of the iPhone-sized app in the middle of the iPad display, nor am I a fan of expanding the app to fit the iPad display and having crappy, pixelated images. The good news is that an iPad version is in the works.
One area where the iOS Contacts app has VIPorbit beat is syncing. While it does require using a PC as intermediary, my contacts are the same on my iPhone, iPad, and PC because they are all syncing the same data. When iOS 5 and iCloud hit the street in a few months, this syncing will be done automatically over the air. VIPorbit doesn't currently sync data between different devices, but an upcoming release is expected to resolve that so that my iPhone and iPad VIPorbit apps are on the same page.
It is a tough call for me. The Contacts app accomplishes most of what I need on a day to day basis in terms of a basic address book. It also has the advantage of being an iPad app, and being integrated into other aspects of iOS, as well as being able to sync contacts wirelessly using Exchange Active Sync. But, when it comes to managing my business, and using the iPad as computing platform for productivity, I prefer the functionality of VIPorbit.
The thing with managing contacts is that you quickly become invested in whichever tool you choose. Adding the details that make the contact manager more valuable is a tedious task. I have yet to come across a tool that can seamlessly import all of those details from another platform, so switching is an equally thankless job.
Choose wisely, because you won't want to change your mind later. It takes a lot of work to get your contacts set up and all of the details entered, and it's not something you want to do twice if it can be avoided.