[Editor's note: This article is part of our series of articles on installing and upgrading to Lion (OS X 10.7). We also have a complete guide to installing and upgrading to Mountain Lion (OS X 10.8).]
For over a decade, installing the latest major version of Mac OS X meant buying a disc and slipping it into your Mac's optical drive. No longer. Mac OS X 10.7—better known as Lion—is available for direct download. In fact, it's available only as a download from Apple's Mac App Store. In many ways, this new method of distribution is easier and more convenient. But it also raises a number of questions and presents significant upgrade obstacles for some users. Here's a look at the details of installing Apple's first-ever download-only OS.
Fair warning: If you install Lion now, keep in mind that you're installing the very first release. It could be fully baked and bug-free, but if previous debuts of major versions of Mac OS X are any indication, we'll see the first update, containing a number of bug fixes, within a few weeks. If your Mac is mission-critical—in other words, if downtime is not an option for you—you might consider holding off for the inevitable Mac OS X 10.7.1.
Finally, before proceeding, be sure to read my article on getting your Mac ready for Lion, which covers system requirements and recommendations, as well as a number of preparatory tasks that will help make the upgrade go smoothly. For example, you should update Snow Leopard to 10.6.8 and install the Migration Assistant Update for Mac OS X Snow Leopard.
Purchasing and downloading Lion
Assuming you meet the requirements, getting Lion is easy—with a few caveats, noted below. You simply launch the Mac App Store application, click the Lion banner on the store's main page (or search for Lion, or click this direct link), click the $29.99 button at the top of the screen, then click the Buy App button that appears. After providing your Apple ID and password, the Lion installer icon will be added to the Dock, and Lion will begin downloading. Specifically, the 3.8 GB installer application, called Install Mac OS X Lion.app, will be saved to your main Applications folder (/Applications). On my cable-model connection the morning of Lion's release, the download took approximately 39 minutes.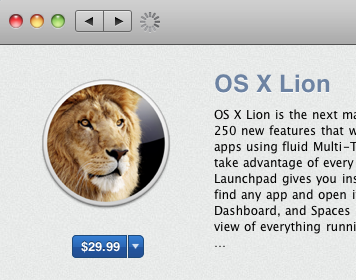 (Three quick notes here. First, if you purchased a Mac on or after June 6, 2011, but it didn't come with Lion pre-installed, you're entitled to a free copy of Lion. Visit this Apple web page for details. Second, if you're a developer who previously downloaded the "golden master" [GM] of the Lion installer, the Mac App Store will claim Lion is "Installed" on any Snow Leopard Mac—and thus not let you download the official release—if it detects that installer on any connected volume. The solution is either to delete the GM, after compressing it or copying it to a removable drive if you want to keep it handy, or to disconnect the drive on which the GM resides. Third, if you're trying to download the Lion installer onto a Mac that's already running Lion (either the GM or the official release), the Mac App Store will claim that Lion is already installed and, again, prevent you from downloading it. Try these tricks: Option+click the Buy App button in the Mac App Store. If that doesn't work, switch to the Mac App Store's main page and then Option+click the Purchases button in the toolbar. If that doesn't work, quit the Mac App Store app and then hold down the Option key while launching the Mac App Store again. One of these three procedures should get rid of the "Installed" status for Lion and let you download it.)
If you've got multiple Snow Leopard Macs, you can download the installer onto any of them—your purchase of Lion entitles you to install it on any of your authorized Macs. To download the Lion installer on one of these "secondary" Macs, you just launch the Mac App Store application on that Mac, click the Purchases button in the toolbar, and click the Install button next to OS X Lion in the list.
Alternatively, once you've downloaded the Lion installer onto one computer, you can copy it—over your local network or by using a flash drive, DVD, or external hard drive—from one Mac to another. You won't be prompted to authorize the installer on each Mac, as you are with other Mac App Store-distributed software—the Lion installer does not use digital-rights management (DRM), which makes it easy to use one installer to upgrade all the Snow Leopard Macs in your home.
However, there's a catch here: After downloading the Lion installer to your Mac, if you leave the installer in the Applications folder and use it to install Lion on your Mac's startup drive, the installer will disappear after installation—it's summarily deleted as part of the installation process, presumably to free up the nearly 4 GB of drive space it occupies. So if you plan to use that installer on other Macs, and you don't want to have to download it from the Mac App Store again, be sure to copy the installer to another drive—or at least move it out of the Applications folder—before you install.
Note that unlike all other software sold through the Mac App Store, subsequent updates to Lion will be provided via Software Update, not through the Mac App Store's update feature.
Installing Lion
When I explained how to install Snow Leopard, I noted that, compared to installing previous versions of Mac OS X, it was the easiest process yet. Well, Lion's installation procedure makes Snow Leopard's look positively byzantine. Whereas previous versions of OS X let you customize your installation, Lion offers no such choices—other than choosing where to install, you don't need to make any decisions until it's time to set things up and start using your Mac. You don't even need to boot from a different disc or volume—the Lion installer runs as a standard application.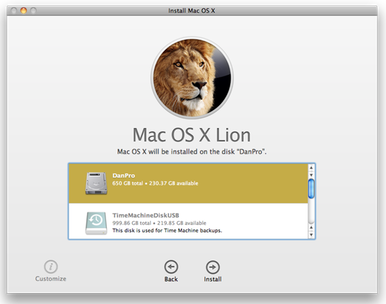 Once you've purchased and downloaded the Lion installer, here are the simple steps involved:
Double-click the Mac OS X Lion Installer application; in the window that appears, click Continue, and then click Agree to agree to the software license agreement.
On the next screen, you choose where to install Lion. By default, only your internal startup drive is listed; if you have other drives connected and want to install Lion onto one of them, click the Show All Disks button and then choose the desired drive. Note that the Lion installer will let you choose any drive that has Snow Leopard installed or any blank drive—the latter is what you would choose if you wanted to do a "clean" install that contains none of your data, applications, or settings from Snow Leopard. In either case, the destination drive must also be formatted as Mac OS Extended (Journaled) and use a GUID Partition Table; the built-in drive on any Mac eligible to run Lion should meet these requirements. (See my article on clean-installing Lion to help you decide if it's something you want to do. Also, we have instructions for installing Lion over Leopard (OS X 10.5), assuming you have the right to do so.)
Click Install, and then provide an admin-level username and password.
The installer will spend some time preparing for installation; over a number of test installations on a 2010 MacBook Air, this process generally took just a few minutes. You'll see a message in the installer window that "Your computer will restart automatically"; you can continue to work in other applications during this time, but once the preparation phase is finished, you'll get only a 30-second warning, and then your Mac will indeed restart on its own.
After your Mac restarts, the actual installation occurs. During our test installs on a MacBook Air, this process took 18 to 24 minutes.
When installation finishes, what you'll see depends on whether you've installed Lion on a blank drive or if you've installed it on a drive containing Snow Leopard with existing accounts, settings, and data.
If you installed onto a blank drive, the first thing you'll see will be the initial Lion welcome and setup screens, where you choose your country or region, your keyboard layout, and your network connection. You'll then be asked if you want to transfer accounts and data from another Mac, a Windows PC—yes, Lion now has a Windows-specific migration feature—a Time Machine drive, or another drive. (Unless you really want to start anew, I'm assuming you'll want to transfer everything.)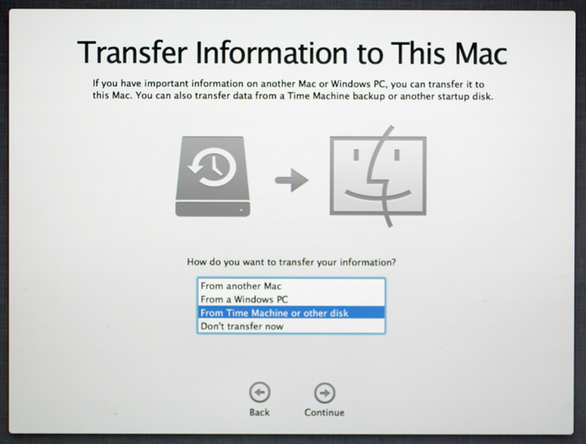 After that, you'll be asked to enter your Apple ID (if you have one) and registration information and, if you didn't transfer accounts from another computer or drive or a backup, to create an account (including taking or choosing an account picture).
Finally, after choosing your time zone, you'll see a Finishing Up screen. If your Mac is a laptop, or if you've got a Magic Trackpad or Magic Mouse connected, this window explains how to use Lion's new inverted-direction scrolling and shows a video demonstration of two-finger scrolling. Scroll through the text and click Start Using Mac OS X Lion—or, if you're using a Mac without a trackpad or Magic Mouse, just click Start Using Mac OS X Lion—and your Mac will finish booting.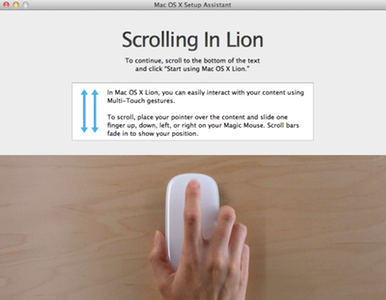 For upgrade installs, once you log in to your account (either automatically or via the login screen, depending on how your Mac was configured before the upgrade), you'll see a Mac OS X Setup Assistant window. Despite the different banner text, this is otherwise the same as the Finishing Up window I described in the previous paragraph.
Upgraders may also see a dialog informing you that some of the existing software on your Mac is incompatible with Lion, and listing that software. (Apple provides more information about such software in a support article.) You'll usually see this message if you had kernel extensions—low-level software that patches the operating system itself—installed under Snow Leopard that Apple knows won't work with Lion. It's also possible to see the incompatible-software dialog if you performed a clean install of Lion and then imported your accounts and data, but it's less likely—OS X's Migration Assistant generally doesn't import kernel extensions and other startup/background processes. In either case, OS X automatically moves this incompatible software to a folder called Incompatible Software at the root level of your startup disk.
That's it—unlike previous OS X installers, Lion's doesn't make you decide what kind of installation you want to do, which language translations or printer drivers to install, or whether or not you'll ever use X11 or QuickTime 7. The installation procedure is easier and quicker than ever.
Post-install tasks
If you've upgraded from Snow Leopard, or if you installed Lion onto a blank drive but imported all of your data and settings, chances are you won't need to do anything else—your Mac will be ready to go. But you may find, despite your pre-installation checks, that some of your existing software needs updates. Similarly, if you've performed a "clean" install of Lion, you may need to spend a bit of time setting things up, and you'll want to reinstall all your favorite apps.
The first thing you'll want to do is run Software Update (from the Apple menu) and install any pending updates. If you've installed Lion in the first few days it's available, chances are you won't have any (especially if you ran Software Update beforehand, which means you already have the latest updates to other Apple software), but it can't hurt to be sure. And if you've waited a week or more to install Lion, there's a good chance Apple will have released a minor update—or will sometime soon.
Next you'll want to set up your printer(s). As with Snow Leopard, Lion doesn't include a slew of printer drivers. But, like Snow Leopard, Lion can determine which drivers you need and either download them automatically or, using Software Update, help you get them. Open the Print & Scan pane of System Preferences and click the Add (+) button, and you'll see a list of connected and nearby (Bonjour) printers. Choose one, and OS X will see if drivers are available. In the case of my Brother 7820N, I got a dialog informing me that "software for this printer is available from Apple"; when I clicked Download & Install, OS X downloaded those drivers, installed them, and automatically set up the printer. (Interestingly, on a Snow Leopard Mac upgraded to Lion, the Print & Scan preference pane alerted me to updated drivers, instructing me to run Software Update to download the new software.)
Next, if you upgraded to Lion from Snow Leopard and saw the aforementioned incompatible-software dialog, now's a good time to check the contents of the Incompatible Software folder at the root level of your startup disk, and then check each vendor's website for updated versions of that software. Similarly, if you performed a clean install, it's time to reinstall your apps—be sure you've got the latest versions, as well as any updates you'll need to apply to software you install from CDs and DVDs.
If you want to enable FileVault (or re-enable it, as the case may be if you followed my advice before installation), now's the time to do so, via the Security pane of System Preferences. Note that if the Lion installer was not able to create a Recovery HD partition on your drive, you won't be able to enable Lion's new full-disk FileVault feature.
Finally, if you're a Unix-y type who had files in /usr/include under Snow Leopard, Lion has a surprise for you: When you installed Lion over Snow Leopard, that folder was summarily deleted during the installation process. Similarly, if you installed Lion onto a blank drive and then used Lion's Setup Assistant or Migration Assistant to transfer accounts and data from another Mac or drive, the /usr/include folder wasn't transfered. If this issue will affect you—you'll know it if it will—you should manually transfer that directory from your backup to your Lion installation. (Thanks to Macworld contributor Joe Kissell for this tip.)
Upgrade and installation challenges
As the installation steps above make clear, for many people Lion is much easier to obtain and install than previous major versions of Mac OS X—not to mention less expensive! But it's not a walk in the park for everyone. Consider the following groups of people:
Those with Lion-compatible Macs who haven't installed Snow Leopard. There are sure to be people who've been merrily using Leopard (Mac OS X 10.5) on an older, but still Lion-compatible, Mac. What if you're one of them, and you've decided you'd like to make the jump to Lion? Apple's official policy here is that you need you purchase and install Snow Leopard and then upgrade to Lion, bringing the cost of Lion to $59, rather than $30.
While this requirement is in the software license agreement you agree to when installing Lion, the Lion installer is also a stickler about it. The installer application itself will launch under Leopard, but it won't let you install Lion, either over Leopard or onto a bare drive. Nor can you mount a Leopard drive on a Mac running Snow Leopard or Lion and then install Lion—the installer simply refuses to install Lion over Leopard.
But what if you believe you have the right to install Lion on that particular drive? In other words, what if you own a copy of Snow Leopard for the Mac in question, but you don't want to add an hour or two to the installation process by installing Snow Leopard on it first? I explain how to get around this hassle in a separate article on installing Lion over Leopard. (It would be great if Apple eventually provides—even if for a fee—a DVD or flash drive that Leopard users can buy to upgrade directly to Snow Leopard.)
Those with slow or limited-bandwidth Internet connections If your Internet connection is slow, it will take a long time—perhaps days—to download the nearly 4GB Lion installer. And if your ISP enforces caps on your Internet data, you could end up paying a small fortune for the privilege.
If you've got a Mac laptop, you can instead tote it to your favorite Apple retailer, the library, a friend's house, or the office—anywhere with a fast Internet connection—and download Lion there. Indeed, Apple's official policy is to invite you to your local Apple Store so you can use the store's Internet connection to download Lion; store employees will even walk you through the purchase, download, and installation processes.
Of course, if your Mac doesn't happen to be portable, or if you live in an area where you can't borrow a fast, no-data-cap Internet connection, you'll need to find another solution. It turns out Apple will be providing one, although it won't be available immediately: Apple told Macworld that starting sometime in August, you'll be able to buy a $69 bootable flash drive containing the Lion installer.
Businesses, schools, and other organizations and institutions that need to install Lion on many different computers. We've heard a number of concerns from large installations—schools, businesses, and the like—about Lion's Mac App Store-only distribution. These organizations often need to roll out Lion to many Macs, and forcing each user to download and install Lion presents significant technical, logistical, and support issues. Apple recently released a document titled OS X Lion for Business and Education that explains the options for these organizations. The gist of that document is that while organizations will use the same purchasing procedure as always to buy Mac OS X, they'll be given one Mac App Store redemption code for Lion for each purchase contract. However, once someone in the organization downloads a copy of the Lion installer, that copy can be used to install the new OS on any and all Macs covered by the contract.
To do so, Apple says customers can copy the Lion installer to the /Applications folder on each Mac and then run the installer from there. Alternatively, they can create a NetInstall or NetRestore image, or use Apple Remote Desktop. They can also create one or more bootable Lion install discs or drives and then install Lion using those drives.
Up and running
While researching this article, I installed innumerable copies of Lion on a variety of computers. Based on that experience, I have to agree with Apple that for the typical Mac user with a broadband connection, the process of purchasing, obtaining, and installing Lion is easer than with any previous major upgrade to OS X. Still, heeding the advice above will reduce the chances of problems and make the upgrade go even more smoothly. Once you've adopted Apple's latest cat, check out all our articles the new OS, which cover its features, built-in apps, and more.
(For an even more in-depth look at upgrading to Lion, check out Macworld contributor Joe Kissell's Take Control of Upgrading to Lion , which covers such topics as extensive pre-install diagnostics, clean installs, installation troubleshooting, and much more.)
Dan Frakes is a Macworld senior editor who's installed more versions of Mac OS X over the years than he cares to remember.
Updated 7/20/2011, 9:33am to provide more information about downloading the release version of Lion over the golden-master version.
Updated 7/20/2011, 10:20am to add link to just-released Migration Assistant Update for Mac OS X Snow Leopard.