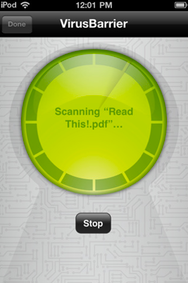 Intego has released VirusBarrier iOS, which the company says is the first malware scanner for the iPhone, iPad, and iPod touch. The app, which is based on Intego's Mac OS X anti-malware tool VirusBarrier X6, can examine files on your iPhone for malware that could affect Macs or PCs.
VirusBarrier iOS thus doesn't scan for or eradicate malware that could harm your iOS device—in large part because no such malware has been discovered; rather, it aims to ensure that your iOS device won't act as a conduit for malware that could wiggle its way onto your computer if left unchecked.
By leveraging iOS's "Open in" command, you can send many types of files from other apps (including Mail attachments, Dropbox documents, and the like) to VirusBarrier. Intego says that the app can "detect and eradicate all known malware affecting Windows or Mac OS X," including viruses, worms, Trojan horses, and other unpleasantries of that ilk.
The $3 app includes a one-year subscription to Intego's malware definitions. It will cost $2 per year to renew that definition subscription.
VirusBarrier iOS requires iOS 4.0 or later.