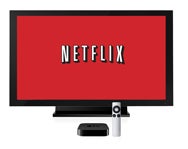 On Tuesday, Netflix hiked up its rates for combined DVD and streaming plans. Beginning immediately for new customers, and in September for existing customers, you'll need to subscribe at least to an $8 DVD-only plan, an $8 streaming-only plan, or a $16 combined plan.
Netflix last raised its prices back in November. At that time, Netflix upped the price of the the one-DVD-at-a-time-bundled-with-unlimited-streaming plan from $9 to $10 per month. That's also when Netflix first introduced its $8 streaming-only plan. Last week, the company quietly launched a DVD-only plan at—you guessed it—$8 per month.
The upshot? Customers accustomed to paying the basic $10 per month for DVDs and streaming will now see a 60 percent increase in their Netflix bills, effective in September. The price increase comes just two weeks before Netflix's next quarterly earnings call. Other plans increase accordingly: Two DVDs at a time with no streaming will cost $12 per month, with price points available up through eight DVDs at a time with no streaming for $44 per month. With all those DVD-only plans, the additional of unlimited streaming adds $8 to your monthly bill.
In its blog post about the latest price changes, Netflix vice president of marketing Jessie Becker writes that the company has "realized that there is still a very large continuing demand for DVDs," and therefore "treating DVDs as a $2 add on to our unlimited streaming plan neither makes great financial sense nor satisfies people who just want DVDs."
Netflix streaming is available on Macs and PCs, the second-generation Apple TV, iOS devices, as well as additional set-top boxe, smartphones, and tablets.
Some speculate that increased studio licensing costs may contribute to Netflix's decision to raise its prices. Whether Netflix customers will take the price increase in stride, or jump ship to competitors like Hulu Plus or Amazon Prime, remains to be seen.