At a Glance
Expert's Rating
Cons
Missing some input/output options found on most DJ rigs
Our Verdict
The Gemini FirstMix USB MIDI Controller is a small, easy-to-use tool for aspiring digital DJs to learn the basics using songs from their own iTunes library. The FirstMix Controller has two decks for scratching or queuing up songs, a mixer, and several built-in effects. And while it's missing some of the features of many higher-end controllers, the First Mix offers a fun way to gain some rudimentary DJ skills.
Priced at $100, the First Mix is a piece of cake to set up. It's compact at 14 by 5.25 by 1.75 inches and a little over a pound and a half. It has a non-removable USB cable that connects to your Mac and powers the unit.
Install the included MixVibes Cross LE software and you're ready to start importing songs into your MixVibes Collection. The software can scan your iTunes library and make those songs available, too. It analyzes your files for beats per minute and peak volume. Having the beats per minute information, along with the tempo tools provided, you can automatically match the beats per minute between songs for smooth transitions. You can create and save playlists of songs, and even record your mixes to your Mac's hard drive.
FirstMix supports a variety of digital music file formats including M4A, AIFF, WAV, MP3, FLAC, and OGG. The hardware also works with third-party software programs such as Traktor, VirtualDJ, and Algoriddim Djay.
The FirstMix has a Browse knob in the top center of the mixer that allows you scroll through your collections or iTunes library, and small buttons just below the knob let you load the song on Player A or B. Each Player has its own controls for gain, treble, bass, and effects level. A cross fader lets you balance the levels of each player in relation to the other. Built of mostly plastic, I'm not sure how much abuse the knobs will withstand, but I didn't have any problems with them while reviewing the FirstMix.
I ran into problems with a couple of faster songs where the software did not recognize the beats per minute correctly, making automatic beat matching a problem, but for the most part the software worked as advertised and was easy to learn.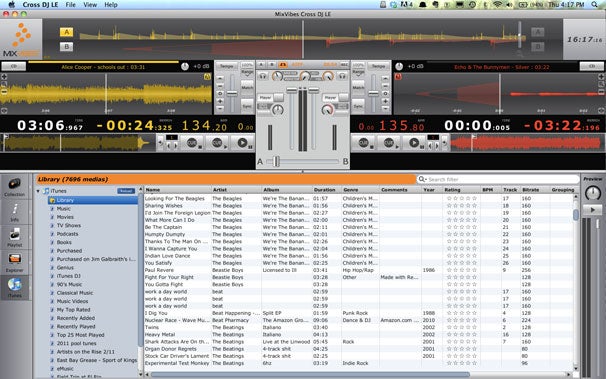 Macworld's buying advice
Higher-end DJ rigs, like Gemini's $250 CTRL-SIX offer more durable construction and many more input and output options, including microphone and headphone jacks, XLR and RCA outs, and more. But for the budding digital DJ, the Gemini First Mix is an easy and fun way to learn the basics and rock your next house party.