At a Glance
Expert's Rating
Pros
Easy to create sites with powerful interactive features
Over 50 themes available
Extensive documentation
Cons
Limited design tools and options
Some themes feel skimpy
Our Verdict
If you want a simple way to create attractive interactive websites, Karelia Software's Sandvox 2.1.6 may be the ticket. Its template-based WYSIWYG tools make building sophisticated pages a snap. But this convenience comes with limited design options that might vex users expecting to create truly unique-looking sites.
Design within limits
Creating your site starts with selecting a theme. More than 50 themes are built into the product, many with multiple color options, although some offer only a few text and media placeholders to get you started. Eight page styles are available to expand your site, among them Photo Album, Blog, Sitemap and generic pages of various designs. You can also add blank pages that contain just your own HTML code, but these can't be edited with Sandvox's WYSIWYG tools (you also can't edit the code of Sandvox-generated content). A Media Browser palette gives you quick access to your media as well as bookmarks from Safari, Firefox, and OmniWeb.
Sandvox looks and feels like a simpler iWeb ( ), but users seeking that application's flexible design tools may be disappointed. There are no image masking features, and many page elements can't be freely repositioned. Instead, elements have customizable default positions (in a sidebar, say, or inline with text), with settings that can be adjusted in the versatile Inspector palette. While the Inspector offers many options––for example, you can turn a simple photo album into a stylish slideshow––creating sites feels like customizing templates rather than designing from scratch. But users who don't mind these restrictions will find Sandvox easy to use and well-supported by thorough documentation.
Objects of interest
Sandvox's graphic design tools may be limited, but its strength lies in allowing users of any skill level to add sophisticated features to their sites. Objects, like iWeb's widgets, can be placed on your pages to add interactive content from the Internet. The usual suspects are here, like placeholders for YouTube videos and HTML code, but you can also add a Facebook Like button, your Twitter, Skype, or IM status, RSS feeds, Delicious.com bookmarks, and much more with just a few clicks. Once added, an object's appearance and function can be customized in the Inspector.
Including powerful site-wide features is just as straightforward. You can add a contact form (hosted for free by Karelia) and a Facebook, IntenseDebate, or Disqus comment system so visitors can get in touch with you (and each other) without requiring your email address. Sandvox also puts a host of less flashy enhancements at your fingertips, letting you apply favicons, search engine meta tags or keywords, and Google Analytics code to your pages.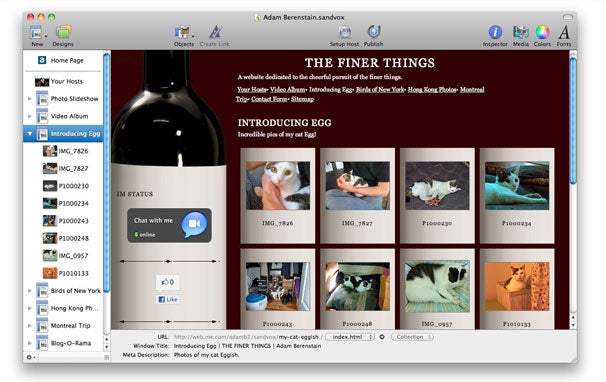 Upload, share, revise
When your site is finished, Sandvox exports to a folder on your Mac as well as remote FTP, SFTP servers, or WebDAV hosts like MobileMe. At export you can create a unique folder for your site, allowing you to conveniently host multiple sites from a single server. When it's time to revise your work, a catalog of third-party plug-ins is available from Sandvox's menu bar. These plug-ins consist mainly of new themes and a few additional objects to add variety to your site. Prices vary, but most hover around $10, and some are free.
Macworld's buying advice
Beginning designers, or those who want to quickly create template-based sites packed with features, should give Sandvox 2.1.6 a look. But advanced users, or anyone who wants the convenience of WYSIWYG tools plus the freedom of a blank canvas, will be better served by applications like MacFlux 3 ( ).
[Adam Berenstain is a freelance writer in upstate New York.]