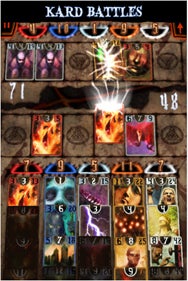 Never let it be said that Magic: The Gathering creator Richard Garfield doesn't like to take full advantage of the good ideas he has—the new iOS game Kard Combat from DeathSpank developer Hothead Games is distinctly Magic-like in its execution. But that's not necessarily a bad thing—Magic is popular for a reason, after all, and Kard Combat allows players to get into customizable card game action without having to spend a cent if they don't want to.
That's right, Kard Combat is free from the App Store—though with something of a caveat. Without paying, you only get access to 40 of the 100 cards currently available and only 5 campaign levels. You can play this way as long as you like, though—and it only takes a single in-app purchase of $1 to unlock the full 33 battle campaign and access to all 100 cards, as well as the ability to run up to 20 simultaneous multiplayer matches.
Available in-app purchases include the ability to unlock the campaign mode for one of the four character classes for $1 or all of the characters for $3. With either of these purchases, cards unlocked through playing the single player mode can then be used in all game modes. For those who just want to jump straight into competitive multiplayer action, however, $10 nets you all cards and items ready for use immediately without having to unlock them.
To celebrate the worldwide launch of the game—up until Wednesday, only Canadian players have been able to access it—Hothead and Garfield are providing players with "Catastrophe," one of the most powerful cards in the game, as well as a +1 life Crystal Shard. You'll have to download the game before July 20 to claim your freebies, though—so why not give it a try?