Hitpad, the free newsreading app from Instant Discover, might be the Casey Kasem of current events. It offers up an entertaining overview of the most popular news stories of the day—but whether it's giving you the most important news is another question entirely.
The app takes the top 10 or so trending topics in the news and offers up columns of links to relevant news stories, videos, photos, tweets, and top results from the Bing search engine. The display is pleasing to look at and use, which isn't always the case in newsreading apps.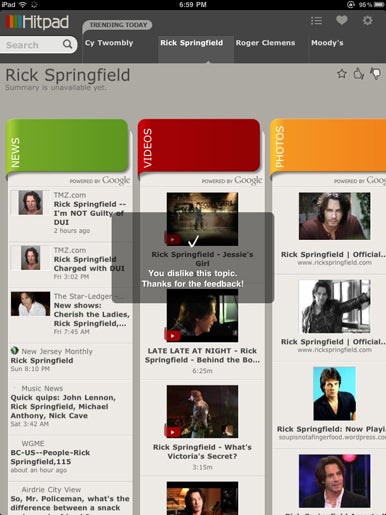 But Hitpad's decision to rely on and display trending stories means news junkies might be disappointed. The "top stories" section was dominated by sports and entertainment news, while news about politics and war was a bit more difficult to find. You can create a Hitpad account using your Facebook or Twitter account; the developer says your demonstrated preferences within those networks will shape the news you see. You can also give a thumbs-up or a thumbs-down to a topic, further shaping your results, and you can search for items that better stimulate your interest.
It's difficult to tell how much difference your input makes, however. If you're merely dipping into the news—glancing at headlines over breakfast—Hitpad is a pleasing solution. Hard-core news consumers might want to choose another approach.
[Joel Mathis is a freelance journalist and political columnist for Scripps Howard News Service. He lives in Philadelphia.]