YourVersion HD, a free news-reading app for the iPad from YourVersion, wants to give you exactly the news you want to read. Successfully making that happen, however, requires a little bit of trial and error.
Rather than thinking of YourVersion HD as a news reader, it's probably better to think of the app as a bookmarking service for your Google searches. You can save the topics that interest you, and YourVersion HD presents you with the latest and most relevant news, blogs, videos, and Tweets about the topic. The app sets itself apart by including Quora results among its offerings.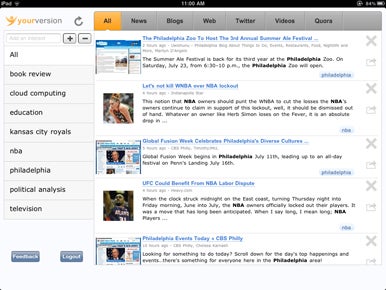 But getting the news you want isn't always easy. "Politics," it turns out, is too broad a search term: you get all the most recent articles that use the word in the headline or text. Better to save a search for "Obama" or "White House" in order to get the results you desire. Similarly, the "movies" topic will serve up a schedule for showings in Rochester, N.Y.—not exactly relevant to me in Philadelphia—but "movie reviews" will get you a bit closer to the sweet spot.
If YourVersion HD has a problem, it's the design—search results are offered in a style that might best be described as "Google utilitarian." A blue-text link, some summary info, maybe an image on the side. Perhaps I've been spoiled by the iPad's capabilities, but this app is simply boring to look at.
There's nothing wrong with utilitarian, though, and if you're wanting a quick overview of your favorite news topics, YourVersion HD does a solid job.
[Joel Mathis is a freelance journalist and political columnist for Scripps Howard News Service. He lives in Philadelphia.]