News360 isn't perfect, but this free news aggregation app does a fine job finding top headlines and displaying them in a pleasing manner.
In both iPad and iPhone formats, the app from developer News360 gathers headlines from more than 1,000 sources, and arranges them by category—U.S. news, business, arts, and so on. The iPad version works a bit like Google News, offering you a main headline and the option to see what other sources are reporting about the same story.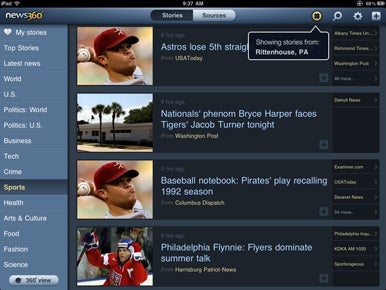 News360 can also import the "likes" from your Facebook account to further shape the headlines you see. The result is a healthy mix of both the news you need and the topics you want—a tricky balancing act that flesh-and-blood editors struggle to achieve.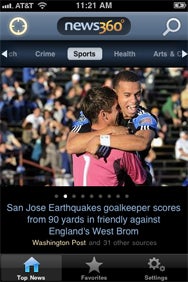 Lots of aggregators do this. News360 goes a step further, letting you use your iOS device's location-detecting capabilities to filter the top stories according to local and regional relevance. This mostly works well, but there are occasional shortcomings. I live in Philadelphia, but the top sports stories one recent morning were about the Houston-Pittsburgh baseball game the night before—with no Phillies scores to be found. I would be outraged, but it's also easy to filter a category by sources—stories from the Philadelphia Inquirer's sports section were at the top of the page.
Most news aggregators display headlines in eye-straining grids that are well-suited to power users, perhaps, but not to the morning habit of "reading the paper" over breakfast. News360's default display—a simple list on the iPad, a slideshow of headlines on the iPhone—is far more pleasing to view and use. In a crowded market of news aggregation apps, both editions of News360 stand out as some of the best.
[Joel Mathis is a freelance journalist and political columnist for Scripps Howard News Service. He lives in Philadelphia.]