Some apps are so good it's easy to overlook their shortcomings. Others are so almost good that their deficiencies come to define them. Flud, a free news-reading app from Matthew Ausonio, falls into the second category—showing enough potential that actually using it becomes overly frustrating.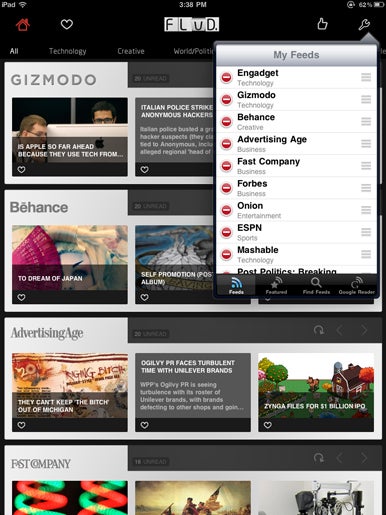 Both the glory and downfall of Flud is its billing as a "personalized news ecosystem." You're invited to build an iPad newspaper of sorts that incorporates the exact sources you want to use, adding and subtracting whatever RSS feeds happen to match your interests. To its credit, adding, subtracting, and ordering those feeds within a category is incredibly easy. And if the resulting grid-like display of headlines is too reminiscent of other readers, Flud at least incorporates enough visual elements—pictures, logos, and more—to keep the eye from getting lost.
The problem: Once you import those feeds, you're still forced into the developer's vision of how those feeds should be categorized. Those categories are listed in a menu scrolling across the top of the app page—with Technology, Creative, World/Politics, and Business being the first four options. That's not close to my preferred order, but I'm stuck with it.
Flud is also hampered by a refusal to explain itself. You can eventually figure out how to place a newsfeed in the appropriate category, but there's no instruction in the app to guide you through the process, and discovering the rules is a hit-or-miss affair. Similarly, Flud's feature letting you save favored links failed—I saw an error page telling me to "alert the Flud police!" But how? I have no idea. That's frustrating.
And that's too bad. I want to like Flud—it's easy to see how it might become a great app. But it's not there yet.
[Joel Mathis is a freelance journalist and political columnist for Scripps Howard News Service. He lives in Philadelphia.]