There are plenty of apps out there that combine news aggregation and social networking, but Zite Personalized Magazine comes closest to replicating the feel of the old Reader's Digest magazines that I used to find in my grandparents' bathroom. The only thing that's missing is "Humor in Uniform."
Developer Zite might be more pleased by another comparison—one that compares its free app with the popular Flipboard app. Both Zite and Flipboard are "personalized magazines" with the elegant user interfaces that present articles from a variety of sources in an elegant format, letting you flip between pages and tap articles for deeper inspection.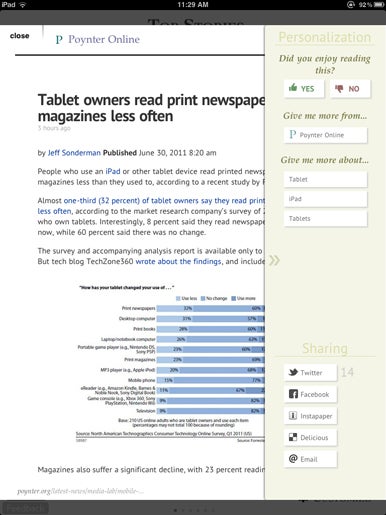 But the apps have different missions. Flipboard gives you the news from sources you have selected in your social networks—you know exactly what you're getting. Zite analyzes your Facebook and Twitter feeds, figures out the topics you're interested in, and draws on thousands of sources to provide information you may not have known you wanted. (Editing the topics list is quite easy.) Stories and blog posts are easily saved to Instapaper or shared via your social networks.
If there's a drawback, it's that Zite's selection of sources is so blog-heavy that a user can feel like they're skimming over the surface of a topic—thus the Reader's Digest comparison. For the most part, though, Zite is an effective, pleasant way to peruse the news.
[Joel Mathis is a freelance journalist and political columnist for Scripps Howard News Service. He lives in Philadelphia.]