If you've ever wanted to program your own TV news channel, Newsy—a free offering from Media Convergence Group—offers the closest approximation.
This app is more than an aggregator of video news clips: Newsy actually has an editorial staff making decisions on content. Every story—in topics ranging from national news to sports—is introduced by a Newsy anchor and typically rounds up video clips from at least three sources. The stories generally last between two and three minutes. Production values aren't exceedingly high—some anchors could use a little more makeup to damp down the glow of their shiny, shiny skin—but it's good enough for Newsy's purposes.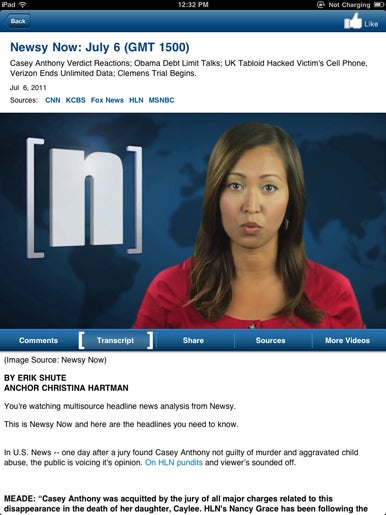 Users can control their experience several ways. They can drag clips down to a playlist, and run the stories consecutively—creating, in essence, a version of the nightly news that's as long or short as they wish. They also have the option to drag clips into a library for later viewing or permanent reference. Links to Newsy videos can be posted to Facebook or Twitter. More text-oriented news lovers can read transcripts of the videos instead of watching.
TV news has never been a bastion of depth, and Newsy's iPad version is no exception. If you're looking for a tidy video overview of the top headlines, though, Newsy has the goods.
[Joel Mathis is a freelance journalist and political columnist for Scripps Howard News Service. He lives in Philadelphia.]