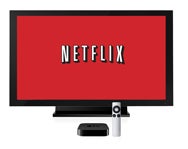 As you may have heard, on Tuesday Netflix raised its rates for combined DVD and streaming subscriptions. Previously, customers on the one-DVD-at-a-time plan could also stream movies from the service's Watch Instantly service, for $10 a month. Starting in September for existing customers (and immediately for new subscribers), the price for that plan jumps to $16 per month (other DVDs plans go up as well). Although there may be legitimate reasons why Netflix needs to charge more, many customers find themselves less than thrilled by that 60 percent price hike. I count myself among them.
I decided to take a closer look at Netflix's new plans, and compare them to the offerings from various Netflix competitors. Is the newly pricier Netflix still the best option for my entertainment needs? Or should I jump ship?
My setup
Before you can adequately determine which movie and television subscription service to choose, you need to figure out what you want, as well as what services your entertainment setup supports. At my home, we've long relied on Netflix as an alternative to paying for premium movie channels. We're aggressive about watching (and returning) our DVDs, and we use the Watch Instantly streaming service plenty too. We rent both movies and TV shows, and we use Watch Instantly when we have neither TiVo'd shows queued up nor a Netflix DVD at home. And we stream shows like Dora the Explorer and The Backyardigans for our kids.
One goal I haven't quite yet met is cutting my cable entirely. We keep cable for kids shows that aren't on Netflix (I'm looking at you, Team Umizoomi), for Philadelphia Eagles games that I can't get over the air with an antenna, and for the ability to watch first-run shows (via TiVo) as they air.
Our entertainment center includes a TiVo HD and a Mac mini. The TiVo supports Netflix's service—along with Amazon, Blockbuster, and other services—and the Mac mini of course can handle any online service that works in a Web browser. If you instead rely on an Apple TV, Roku Player, or TiVo Premiere, your supported services will differ.
Netflix
The path of least resistance for me, I suppose, is sticking with the Netflix service I already have. But paying $6 more per month to continue the same service I've been using means paying another $72 per year. The new $16-per-month rate is actually more than my local cable company (Cablevision) charges for subscriptions to HBO, Showtime, Cinemax, Starz/Encore, or TMC; the old rate was $3 to $5 cheaper than those premium channel subscriptions.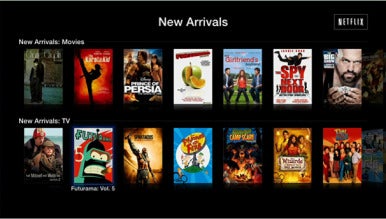 Netflix couples two advantages over HBO and its brethren: the included on-demand viewing with Watch Instantly, and the ability to dictate which movies are "aired" by virtue of choosing my DVDs.
According to Netflix, it has "thousands of movies and TV episodes available to watch instantly"; the Instant Watcher website pegs the exact number at 12,382 streaming movies as of this writing. The company no longer advertises how many DVDs it has—and, in fact, seems to treat its DVD mailing service as an afterthought—but back in 2009, Netflix said it had 100,000 titles on DVD.
The point: You can almost definitely find the movie or TV show you want in Netflix's DVD library. Your odds are worse (though generally improving) with the Watch Instantly service. Besides its smaller size, Netflix's streaming catalog is a challenge because it is seemingly in endless flux. While new DVDs arrive while they're released—or, more often now, 30 days after their initial release—streaming titles arrive when deals are struck, and they expire when those deals expire. In other words, Netflix owns its DVDs and can rent them as long as it wants; streaming titles, however, are on borrowed time (something my colleague Dan Moren has noticed as well).
There's a lot to love about Netflix, though. Watch Instantly works with oodles of devices, including the iPad, iPhone, Apple TV, TiVo, Playstation, Xbox, Wii, Roku, and oodles of other Internet-ready televisions, DVD players, and set-top boxes. The website is fairly usable, and the movie recommendations engine that Netflix employs is impressive.
So if I choose to abandon Netflix, it won't be because of any perceived weakness in the product offering. But that's the combined streaming and DVD offering. I regularly use both. Forced to choose between an $8 monthly DVD plan or an $8 monthly streaming plan, I simply don't know which to pick. I love the wider selection of Netflix's DVD library, but I love the always-available, always-on aspect of the streaming service. Is the combination worth $16? I suppose so—unless I can find a viable alternative.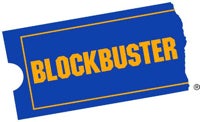 Blockbuster
Spoiler alert: Blockbuster's DVD-by-mail service and On Demand streaming catalog is not a viable alternative. Here's a list of the benefits Blockbuster's offering sports over Netflix's:
New releases are often available one month before Netflix or Redbox get them.
That's it. In almost every other way, Blockbuster's service is laughably inferior. Start with the cost: Blockbuster charges $12 a month for its one-disc-at-a-time plan. (To be fair to Blockbuster, the company includes video game discs in that plan, so you can rent those too.)
Blockbuster does offer five "in-store exchanges" with its subscriptions. That means you can take your movie back to a Blockbuster store near you (if you can find any that are still in business) and exchange it for another rental. The Blockbusters near me are all shuttered, and one appealing element of DVD-by-mail services is the fact that I don't need to drive to a store.
At $12 a month to Netflix's $8 matching DVD plan, Blockbuster's pricing seems out of whack. You might assume that maybe Blockbuster's plan at least includes streaming? But you'd be wrong.
Blockbuster doesn't offer a streaming plan. Its On Demand movies are charged per use, with variable pricing ranging from $1 to $5 per rental. (You can also purchase On Demand movies from Blockbuster, which are then kept in a digital locker from which you can re-stream the movie at any time.) To Blockbuster's credit, because it charges so much for On Demand rentals, it's able to stream more current titles than Netflix. At this writing, I could stream The Lincoln Lawyer from Blockbuster for $4, but need to wait for the DVD from Netflix. But I like the notion of paying Netflix a flat $8 rate for streaming from its catalog, versus paying Blockbuster piecemeal.
Besides its lousy pricing and old-school streaming approach, Blockbuster's a tough sell for Apple device owners. While various Blu-ray players, TiVos, and set-top boxes integrate with Blockbuster's On Demand service, no Apple products do—the iPad, iPhone, and Apple TV don't work with Blockbuster at all.
Overall, it feels like Blockbuster's barely in this fight. The pricing's nutty, the lack of support on Apple devices disappointing, and the absence of a streaming plan a deal-breaker.
Amazon Prime Instant Video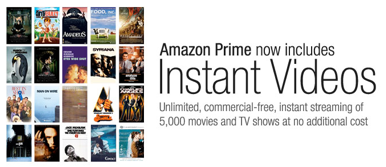 Amazon doesn't offer DVDs by mail—unless you purchase them the old-fashioned, e-commerce way. But it does offer a subscription movie and TV show streaming service, and it's made Instant Video part of Amazon Prime.
Amazon Prime, for the uninitiated, is a $79-per-year subscription that grants the buyer free two-day shipping with no minimum order size, or one-day shipping for $4 an item, for many products. While Amazon sometimes makes Prime available for free to certain customers (as it does with its Amazon Mom program), you must pony up the full $79 Prime fee to gain access to the Instant Video offering. That fee works out to $6.58 per month.
According to Amazon, its streaming library includes more than 6000 movies and TV shows. When I clicked to see all of Amazon's "Prime Eligible" titles, however, I saw a list of merely 2548 videos—including 513 TV shows.
It's a bit tough to browse Amazon's Prime Eligible catalog; you can't limit your searches to Prime Eligible videos only, and there are many more thousands of movies that you can stream instantly by renting or buying them (for considerably more than "free").
While Amazon's digital movies available for purchase and rent can play on TiVos, the Prime Instant videos aren't compatible. Prime videos also don't play back on iPads, iPhones, or the Apple TV. They play back fine on your Mac via Flash, and the service is compatible with numerous other devices, including the Roku.
To me, Prime will be tempting only if Amazon's able to expand its video selection dramatically. It's great that Amazon has every season of Mister Rogers' Neighborhood, oodles of reality cooking shows, and the Tom Hanks/Meg Ryan classic You've Got Mail. Unfortunately, the service is severely lacking in current titles.
Hulu Plus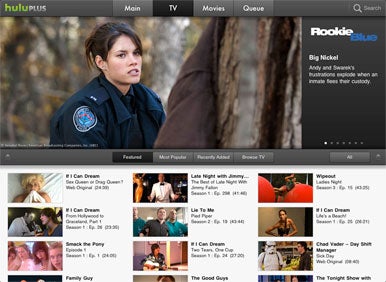 Ah, Hulu. Sometimes it feels like proof that the production studios really "get it," and sometimes it doesn't. Hulu Plus offers a variety of advantages over the basic free Hulu offering: It includes more than 1000 seasons of current and classic TV shows—more than 33,000 episodes—with 70 shows that are limited to Plus subscribers only. In addition to the "hundreds of movies and documentaries" that Hulu offers everyone, Plus adds "hundreds of exclusive films from The Criterion Collection." When possible, Hulu Plus content streams in 720p High Definition.
And, unlike regular old Hulu, Hulu Plus can stream to devices besides computers—including the iPad and the iPhone (but notably not the Apple TV).
Hulu Plus costs $8 per month—just like Netflix's streaming-only package. In an advantage over Netflix, Hulu Plus often includes every (aired) episode of the current season of the television shows in its library, and often includes every episode for every season, though that's determined on a show by show basis.
Some Hulu Plus content—usually television shows and not movies—includes limited commercial interruptions; Hulu says this is "to keep the price low, given the high licensing costs of current season TV episodes."
I find Hulu's site a bit annoying to navigate. It feels hard to get a sense of every show available, since you can't easily find a master list. Hulu wants you to browse alphabetically or by popularity, and doesn't offer any obvious way to browse by release date (or even "added to Hulu" date). That's probably because Hulu adds (and includes) very, very little in the way of new movies; they're mostly older titles. The current TV shows are great for cord-cutters; the small, largely outdated movie library is disappointing for film fanatics.
Zediva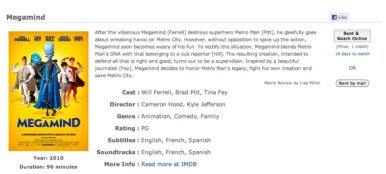 Man, does the MPAA hate Zediva. When you watch movies from Netflix and its competitors (whether streaming or DVD-by-mail), you often miss out. Many times, studios sell DVD-by-mail services limited discs that lack extras like commentary tracks or behind-the-scenes features, and streaming services almost never include that content.
Zediva's different. The streaming-only service goes out and buys physical copies of the in-store versions of new DVDs, and when you click to play a movie, that actual DVD is inserted into an actual DVD player. You then take control of that DVD player to play back the movie you want to watch.
It makes for an interesting combination of good and not-so-good. Zediva gets new movies the instant they come out, because it's not restricted by any studio agreements. The company offers a library of fewer than 200 movies; Zediva's focus is on stocking the most popular movies of the past year, not every movie ever made.
But because you're controlling an actual DVD as it plays back, you lose the benefit of even the limited buffering that other services offer. Pause a Zediva movie, and prepare to wait as many as 30 seconds for it to load up again when you attempt to resume. We often have three kids under the age of five sleeping upstairs when we match movies, and rare is the night we don't have to pause once or twice—not to mention our own bathroom or snack breaks. The sluggish unpausing with Zediva got old fast in my testing.
At the moment, Zediva's offering what it calls "introductory pricing." You pay $2 per movie, or $10 for 10 movies. Here's a case where I don't mind the pay-as-you-go model, since a buck a movie strikes me as pretty reasonable.
That $1-per-movie pricing sounds familiar…
Redbox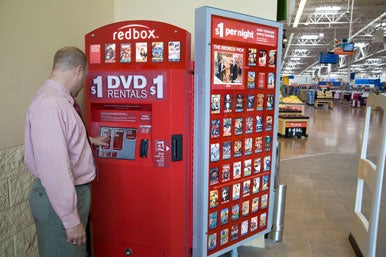 Like Zediva, Redbox charges just a buck a day per rental. And like Zediva, Redbox doesn't aim to offer every single DVD ever made—though Redbox's available catalog dwarfs Zediva's.
The downside to Redbox is that you must leave your house in order to use it. Again, at $1 per movie, I think the price is right. But the problem is that if you don't get back to the Redbox kiosk within 24 hours of renting, you're charged another dollar for your movie.
That's a fair business model—but not one that works for me.
iTunes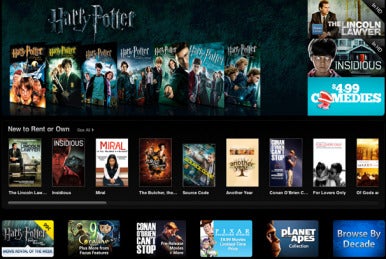 I know, I know: Some of you swear by iTunes rentals and purchases. I don't like it. I don't like the long wait for high definition movies to download; I don't like the draconian requirements on how long you get to watch your rented movie before it expires, and I don't like the relatively high rental prices—$5 for new HD releases. I would welcome a competitively-priced Apple-run movie subscription service, but I'm not holding my breath.
What's next?
There's one fact that I believe is indisputable: Pricing issues aside, none of the currently available services can outshine Netflix's offering. And since no streaming service can rival Netflix's catalog, you can't really replace Netflix entirely by combining two services.
My least likely option, however, is sticking with what I have now. I believe that paying $16 a month for a service that was once $10 (and, just a few months before that, $9) irks me. I think the blame for that cost increase falls mostly on the shoulders of the studios that license content to Netflix, although the company hasn't said so publicly. If enough likeminded customers scale back or cancel their Netflix subscriptions, I don't know that it punishes the studios—but perhaps it will help send a message. (Particularly if we don't all start—heaven forbid—buying DVDs again.)
Today, there are many movies on my DVD queue with Netflix that aren't available to watch instantly. There are barely any films on my Watch Instantly queue that aren't available on DVD. Thus, one option I'm considering—with a heavy heart—is dropping the streaming and sticking with an $8, DVD-only plan.
I'm also debating dropping Netflix completely, and then signing up for Hulu Plus and Zediva, or (less likely) Amazon Prime and Zediva. Zediva will let me watch new releases I'm interested in, and Hulu Plus just may enable me to cut the cable cord—though I still don't know what to do about those Eagles games.
Of course, if I cut out cable completely, then maybe it's worth it to stick with Netflix after all—in addition to Hulu Plus for current shows, since I'd be saving so much on the cable bill. But, at least where I live, the cable company raises your phone and Internet prices if you drop the TV package, so the savings are less substantial than I'd like.
What's clear to me—and trust me, I get that this is a personal decision for each customer to make—is that Netflix is a no-brainer at $10 a month for DVDs and streaming. At $16 per month, though, it requires a lot more rumination.
Premiere XL
Price When Reviewed:
$299