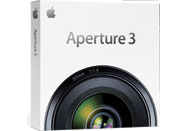 Apple on Wednesday released Aperture 3.1.3, the latest update to its professional-level photography software. Included in the update are general compatibility fixes and, as always, improvements in stability and performance; as such, the new version is recommended for all Aperture 3 users.
In particular, Aperture 3.1.3 touts better reliability and performance for syncing albums published on the Web, now handles slideshow exports in the background, and allows users to enable or disable support for gestures in its preferences. In addition, the Crop tool now correctly supports gestures for defining size, users can shift-click snapshots in Faces to make contiguous selections, and published albums on MobileMe, Facebook, and Flickr now show up in a Web section of the Projects Inspector.
A handful of other patches address a problem where a blank sheet would show up during a book or print order, an issue where incorrect metadata presets were applied to imported audio, and a glitch where Aperture could quit unexpectedly when trimming audio in full-screen mode. Those who enter names in Faces that use accented, Japanese, Korean, or Simplified Chinese characters should find that process smoother, and the program also features better stability for browsing video clips and improved reliability for repairing and rebuilding your library.
The 292.02MB update requires Mac OS X 10.6.6 later and is available via Software Update and Apple's support downloads site.