The App Store makes downloading and installing software for iOS devices easy—for consumers. But what about if you're running a business and you want to get apps for all of your employees? For those cases, Apple has announced the App Store Volume Purchase for Business Program, which offers to businesses the same capabilities that the company made available to educational institutions last year.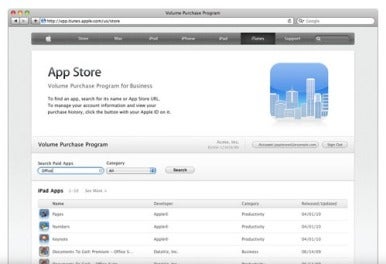 With the Volume Purchase Program you create a single Apple ID that is specifically used to manage purchases for your organization. Using that account—which needs to be linked to a corporate credit card or purchasing card—organizations can search for apps and then purchase them in bulk. (There's no discount for purchasing in bulk, however; the prices remain the same as they are in the App Store.)
Once the purchases have been made, Apple issues the company a list of redemption codes for the app. Whoever is managing app distribution for the company can email those codes to employees, allowing them to download the app just by following a link on their Mac, PC, or iOS device. The management interface is updated as users redeem the apps, keeping track of which codes are still available, as well as retaining a full purchase history.
In addition to purchasing apps available on the App Store, the Volume Purchase Program also lets you buy custom business-to-business (B2B) apps that third parties develop for your company. These are distinct from apps that might be developed within a company and distributed to employees, in that they are required to be paid apps (costing at least $10) and are developed out of house. The app developer, who needs to be a member of the iOS Developer program, also needs to authorize purchasers to allow them to buy the apps, at which point the process is virtually identical to buying apps in bulk from the store.
Both cases allow organizations to use third-party Mobile Device Management (MDM) programs to distribute and manage redemption codes for apps.
To be eligible for the Volume Purchase Program, your organization must have a Dun & Bradstreet (D-U-N-S) number, a valid business address, and business contact information. Though the program is not yet in operation, Apple says that it's coming soon; a full guide on volume purchasing is available at Apple's website.