Ready to send in the clowns? Announce their arrival with Teatral (free), Tobias Sommer's digital salute to classic wood type. An added plus to this TrueType font: Math signs are included in case the whole honking herd stampedes towards accounting.
This free download throws every character into the ring with rugged block serifs and shading inside and out. Teatral comes with 188 characters including yen, pound and euro signs. Handy stuff if your clowns want to work the international markets with style. Using Rob Meek's FontStruct application, Sommer has made clever use of modular elements to build a series of diamond details into the interior of each letter. This behind-the-scenes piecework doesn't come easy. The result is a modern take on traditional chiseled decoration.
Like its non-digital cousins, Teatral is ideal for headlines, logos, and labels. Consider using individual elements, such as brackets and arrows, as standalone embellishments for plain-Jane memos—or go bold. Etch one exclamation mark into your favorite beer mug. Whatever you do, keep it personal. This download is covered by a non-commercial license. Contact the designer for permission to go to market.
One downside of the woodtype style: Although lowercase characters are provided using an alternative shading direction, the effect doesn't make for a legible sentence. In case you want to give it a go, Teatral includes punctuation characters along with diacritics, accented letters, and charming licensing marks. Mr. Sommer speaks four languages, after all, and so does his cast of characters.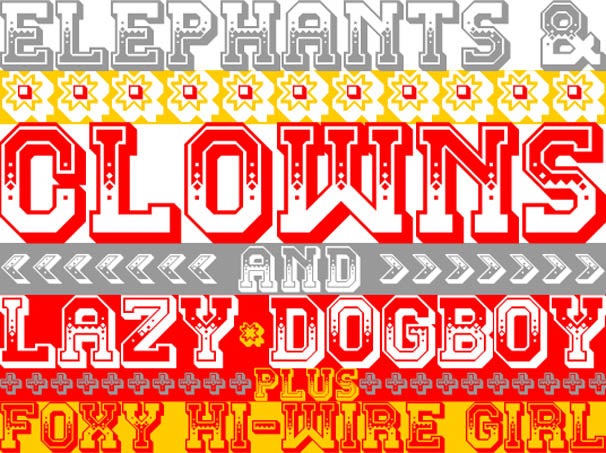 [Kate Godfrey is a designer in San Francisco.]