There are few independent Mac apps that have the pedigree of Bare Bones Software's BBEdit. The text editor par excellance may have been around for 20 years, but it sure doesn't shows any sign of slowing down. The latest major version, BBEdit 10, released on Tuesday, brings more than 100 new features, revamps, improvements, and significant enhancements.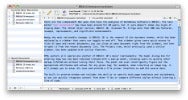 Among the most noticeable changes in BBEdit 10 is the removal of the document drawer, which has been replaced by a sidebar that users can toggle on and off. That sidebar gives users quick access to lists of open and recent documents; you can close an open document right from the sidebar, and then re-open it from the recent documents list. The Project view, which previously used a similar sidebar, has been updated with similar features.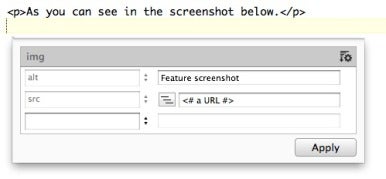 HTML authors will appreciate another of BBEdit 10's major improvements: The modal dialog box for entering tags has now been replaced instead with a pop-up panel, allowing users to quickly enter markup information without losing their focus. The panel can even intelligently figure out the appropriate attributes and values for any given tag; for example, when inserting an image tag, it will prompt you to enter alt text and provide a file picker interface to add the source file. Adding additional attributes is as easy as selecting from a drop-down menu.
And when it's time to check out how your HTML really works, you can take advantage of the built-in preview window's new ability to specify both page templates and stylesheets. So it's easy to get an idea of how a page will look on your site, even before you upload it.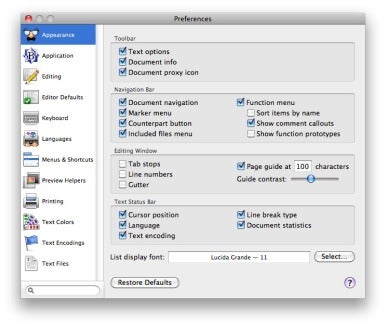 Another area that's been the recipient of much love and attention in the new release is the Preferences window. The daunting list of entries from previous iterations of BBEdit has been replaced with a redesigned, streamlined experience, breaking up different sections with icons and removing a number of less commonly-used options. (Power users can still adjust those removed settings via Terminal, if they so choose.) There's also a prominent search box right in the window, replacing the previous one, which was hidden in a pop-out drawer. For those who never even managed to find the old version's search box—including yours truly—it's a godsend.
If you like tweaking the colors of your BBEdit windows, then you'll welcome support for color schemes in the new version; you can now easily switch back and forth between different color schemes or, if you prefer, associate particular color schemes with specific programming languages. So you may choose the standard black-on-white for when you're working with PHP, but go for a more retro Terminal feel with green-on-black when you're writing a Perl script.
People who use BBEdit in a multi-Mac environment will benefit from the ability to store BBEdit's application support folder on Dropbox, letting them easily port their preferences and other options on all of their computers—no more re-tweaking your BBEdit settings on each Mac you own. And if you want to share your BBEdit experience with a friend or colleague, you can now wrap clippings, scripts, text filters, and more into a package, which other users can then drop right into their own BBEdit installation.
There are far more features in BBEdit 10 than can be listed here, including the ability to edit files in a ZIP archive without uncompressing it (even via Multi-File search-and-replace), a simplified and reorganized support folder, and support for Lion (including full-screen mode). BBEdit 9's Sleep feature is now the default behavior upon quitting, meaning you never again have to worry about not saving your file; next time you relaunch the program, all your documents will be right where you left them, even if you forgot to hit command-S.
BBEdit 10 will be available via Bare Bones's website and the Mac App Store for an introductory price of $40 for the first 90 days. After that, the price of a full version, from either store, will rise to $50—a significant reduction from the previous version's $100 price tag. Owners of previous versions can upgrade for $40 and anybody who purchased a copy after January 1, 2011—or anybody who bought a prior version via the Mac App Store—can grab 10 for free.
As before, the Mac App Store will lack certain command-line tools and other power features in order to comply with Apple's guidelines; Bare Bones will provide a standalone installer from its site which will restore some of these features.
BBEdit 10 requires Mac OS X 10.6 or later.