Reader Art Miller is a parent with concerns about the contents of his iTunes movie library. He writes:
I've ripped some of my DVDs so that I can watch them on my iPad and Apple TV. I have children and some of these movies are rated R. Is there a way I can make them available for my and my wife's viewing but not for the kids?
This is a two-step process. The first step is tagging your movies with a rating—G, PG, PG-13, R, or NC-17. Once you've done that, you'll want to turn on parental controls on your iPad and Apple TV so that, left to their own devices, the kids won't be able to watch any movies that bear certain ratings—PG-13 and above, for example.
To tag your movies, download a free copy of Kerstetter.net's MetaX ( ). This is a terrific tool for adding tags to your movies and TV shows. It uses the tagChimp community generated tagging site to add tags (including ratings) to your movies. Just add a movie to MetX, choose one of the groups of tags located by tagChimp, and tick the box next to those tags you want to add to the movie. Click the red Write button at the top of the window and MetaX will set about adding the tags (this can take a minute or two).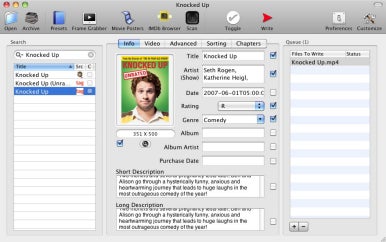 With luck iTunes will acknowledge those tags when you next select the movie. If it doesn't, just delete it from iTunes (but don't throw it away). Add the movie again and iTunes should recognize the tags. (To see if it has, just select the movie, press Command-I to bring up the Info window, and look for the added tags in the Summary tab.)
Now move to the iPad. Launch Settings, choose General, and tap Restrictions. Tap Enable Restrictions at the top of the screen and enter and confirm a four-digit passcode. In the Allowed Content area tap Movies and tap the highest rating you're willing to allow—PG, for example. Do this and any movies that have a rating of PG-13 and higher won't be visible on the iPad until you change the restriction or completely run restrictions off.
On an Apple TV go to Settings -> General -> Parental Controls. In the Parental Controls screen select Turn On Parental Controls and press the Remote's Select button. Again enter and confirm a four-digit passcode. Scroll down in the resulting screen to Restrict Movies To and press Select until you see the rating you want to restrict movies to.
Unlike with the iPad you'll still see the titles of movies that are synced to the Apple TV, but you'll be able to play them only by entering that four-digit passcode.