In my family room sit several racks full of hundreds of DVD, case after case of evidence of the movie and TV show collection lovingly crafted over more than a decade. But I haven't added a disc to my collection in the past couple years; Netflix saw to that. And now that Netflix and many other companies offer instant access to movies and TV shows, the whole Internet is my collection. But suppose I want to watch a movie right now—one that I don't already own on DVD. How am I supposed to figure out which service (or services) on the Internet will let me watch that movie?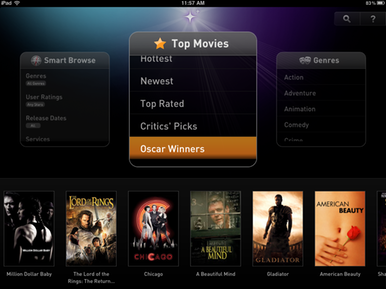 The answer requires just three syllables: Fanhattan. It's a free iPad app that aims to help you find movies and TV shows from around the Internet—without needing to check each service's catalog separately. Fanhattan can find movies from Netflix, Hulu/Hulu Plus, Amazon Instant Video, iTunes, ABC, Crackle, Blockbuster, Best Buy Cinema Now, Vudu, and the Playstation Network. What's more, in addition to finding versions available for instal rental, purchase, or streaming, the app can even point you to places to purchase DVDs and Blu-ray discs from retailers like Amazon and Blockbuster, too.
The app's interface is pleasant to look at, cleverly designed, and largely intuitive—though I did trip up a few times at first, since I unintentionally dismissed the tutorial screen before I'd read it. (You can get it back by tapping the question mark icon at the upper right.)
When you launch Fanhatten, you choose between Movies and TV Shows. After that, you browse content by swiping through posters at the bottom of the screen. The app offers powerful search and filtering options; you can browse just for Oscar-winning comedies rated PG-13 or R, say. You can also customize which services Fanhattan searches for content: I don't have a Playstation Network subscription, so I don't want to be taunted with offerings available only via that service.
Tap on a movie or show, and additional details slide in—including a list of the services through which you can watch it. (You can customize which services Fanhattan includes here, too.) With compatible services—like Hulu Plus and Netflix—you can even start playing some content immediately on your iPad: Tap the right button, and (after a quick sojourn via Safari), the appropriate app will launch and start playing your selected video.
Fanhattan also provides one-tap access to trailers, movie details (including cast and crew), Rotten Tomatoes reviews, clips, soundtrack links, related Amazon and Facebook pages, ratings, runtime, and similar content.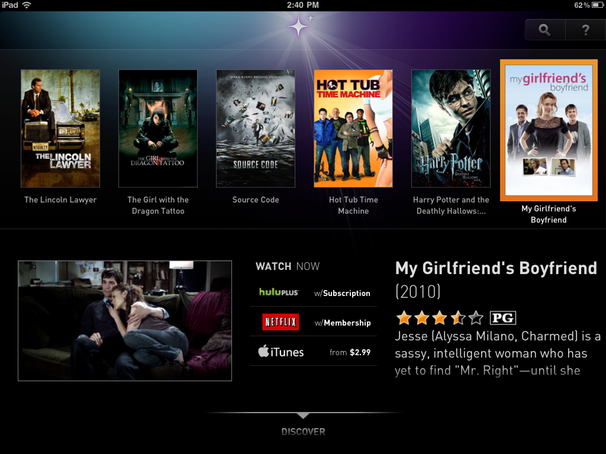 The entire app experience is nice, though still a bit flawed. I encountered a few unexplainable crashes. Even more annoying, though, is the app's failure to remember that I only want it to show me content available via Netflix, Hulu, and Crackle when I"m browsing; those filtering options need to be reset when I relaunch the app. And I wanted a way to add movies to my Netflix Watch Instantly queue, without actually pressing Play to start the movie; no such option exists.
Those annoyances aside, Fanhattan still manages to impress, and it fulfills a need I hadn't realized existed. Knowing that a movie's available for free via Hulu, or as part of my Netflix subscription is cool; getting all that information easily, in a single app, is cooler still.