At a Glance
Expert's Rating
Pros
Great image quality and features for the price
Very small and light
Fun-to-use shooting modes
Wireless sharing and remote-control features
Cons
Touchscreen can be unresponsive
Has a toylike build
Uses MicroSD cards for storage
Digital stabilization only
Our Verdict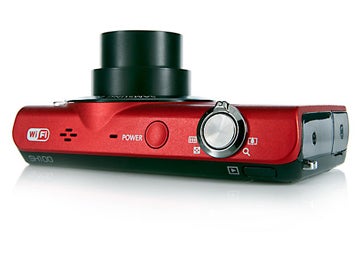 At first glance, the Samsung SH100 ($200) looks like a run-of-the-mill, low-priced touchscreen camera. It's built for very casual shooters, and its core specs aren't exactly mind-boggling: The SH100's 14-megapixel CCD sensor may have been an impressive feature a few years ago, but in these days of ever-inflated pixel counts, it's standard issue in the compact camera world. Same goes for its 5X optical zoom lens and 720p video recording at 30 frames per second.
The SH100 ups the ante, however, with its built-in wireless features, which include (but aren't limited to) direct uploads from the camera to Facebook, YouTube, and other sharing services. The most unusual wireless feature is the ability to create a peer-to-peer connection with Samsung Galaxy S series phones, meaning that you can use a phone as a wireless remote control and a tethered storage device for photos and video.
The sum of all these parts is hardware you'd expect in a standard-issue $200 camera, but enhanced with innovative in-camera extras that provide great bang for the buck. The SH100 performs well in Auto mode, has well-implemented Wi-Fi features, and offers a little something extra for anyone who owns a Samsung Galaxy S or Galaxy S II phone. Serious photographers won't find much to like here, but it's a great option for a younger shooter.
Hardware and design
The 14-megapixel Samsung SH100 is very compact, with a 0.74-inch-deep frame that slips comfortably into a shirt or pants pocket. One trade-off for that small size is that the camera uses Micro SD format cards instead of the more-traditional SD Card. Another slight oddity is that the camera's battery charges inside the camera, via a proprietary connector that you can plug into a USB port or into the included wall charger.
The SH100's 5X optical zoom lens favors wide-angle shots, ranging from 26mm to 130mm in 35mm-film-equivalent focal lengths. The camera has digital image stabilization only, which is generally less effective than an optical or sensor-shift stabilization system; even so, the SH100 had no problems keeping full-telephoto shots steady in my hands-on tests.
Many of the camera's controls reside in its touchscreen menus, leaving the SH100 with just four physical buttons: a top-mounted power button, a shutter/zoom control, a playback button, and a back-mounted home button that takes you to the camera's main menus.
The SH100's touchscreen interface is straightforward and easy to use, with four scrollable pages of phone-style icons that give you access to shooting modes, playback options, wireless features, image-editing tools, and special effects. The in-camera options are plentiful and clearly labeled, but four pages of icons is a bit much; I would have preferred to see Samsung group like-minded features in folders to reduce the number of navigation swipes necessary.
The camera's 3-inch touchscreen also takes a couple of presses to register some selections, and it might prove problematic for people with thick fingers. Because it's a resistive touchscreen, you sometimes have to press it harder than you expect. What's more, entering e-mail addresses, wireless network passwords, and other login information while using the camera's wireless features can really test your patience. There's no option to reveal passwords as you type them, either, meaning that you fly blind when inputting text, and your margin of error is very small for such a touchy interface.
The Samsung SH100 is incredibly small and light, and the camera's plastic body and resistive touchscreen give it a toylike feel. Nevertheless, it feels durable enough to withstand the daily wear-and-tear associated with being tossed in a bag or in a pocket.
Shooting modes and features
The SH100 certainly gives you your money's worth when it comes to fancy in-camera features. Most of these extras are geared toward younger users: in-camera effects, special overlays, and fancy playback options.
Like most other cameras in its price range, it offers common automated shooting modes such as Smart Auto for both stills and video, six scene selection options, and a Program mode for tweaking ISO settings, white balance, metering modes, and other presets. The SH100 shoots 720p high-definition video at 30 fps in MP4 format.
In the camera's dedicated macro mode, you can nab a clearly focused shot of an up-close subject even when you're only about 3 inches away. And though there's no explicit manual mode, you have limited manual control over the camera's shutter and aperture settings in the SH100's Night mode. In Night mode, shutter speeds range from 1 to 16 seconds, while aperture settings range from F3.3 to F9.4 in wide-angle mode and from F5.9 or F16.7 in full telephoto.
The SH100 exceeds the offerings of most (if not all) cameras in its class with its Smart Filter modes (which mimic everything from a tilt-shift lens to scratchy sepiatone film), its in-camera editing options, and its wireless features.
The SH100's Magic Frame feature lets you snap a shot that appears on a virtual billboard, an old-school TV set, or a fake magazine cover. It's ridiculous—but fun to play around with.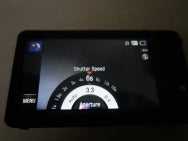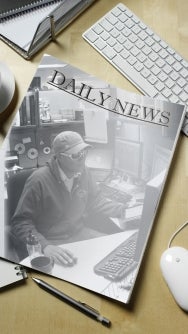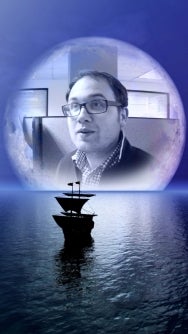 The camera's Photo Editor option permits you to adjust image brightness, saturation, and contrast after you take a photo, saving a copy of the retouched image. You can also apply the SH100's Smart Filter options after you take a photo, in case you'd like to retain the original, untreated image. While playing back images, you can crop them (by selecting points on the touchscreen), rotate image orientation, and resize photos. All in all, the SH100's image-editing options are impressive for a low-priced camera.
Like the Magic Frame feature, the camera's playback options are geared toward teens and tweeners, providing a few unique extras for viewing photos in-camera. The Magazine option lets you flip through a virtual travel album, wedding album, or party-themed album of your photosyou also get "3D album" playback mode, and standard slideshow and playback modes.
Considering the camera's fun features, cellphone-style interface, and almost toy-like ultraslim body, the SH100 should appeal to kids and casual snapshooters. The camera's wireless sharing features increase its convenience for fans of social networking.
Wireless features
The SH100's coolest wireless feature is also its most limited. By downloading a free Remote Viewfinder app and installing it on a Samsung Galaxy S II or Samsung Galaxy S phone, you can use the phone's touchscreen to view a real-time feed from the camera's lens, snap photos by remote control, and adjust the camera's flash and resolution settings. You don't even need to be within range of a Wi-Fi hotspot to take advantage of the peer-to-peer app; it forms a direct connection between the phone and the camera. Here's a video run-through of the SH100's Remote Viewfinder app.
Samsung SH100's remote viewfinder app
Though the SH100 has built-in Wi-Fi, don't expect to use the camera as a Web-surfing device. The camera's wireless capabilities are limited to sharing and file-backup services; it doesn't include a full browser.
If you can successfully enter text on the Samsung SH100's somewhat finicky touchscreen, the camera has some of the best built-in wireless features we've seen this side of a cell phone. You can send your photos as e-mail attachments directly from the phone; as long as you have an easily accessible wireless access point without too many encryption parameters to enter into the camera, it works quickly and without a hitch. The SH100 also lets you post your photos and videos to sites such as Facebook, Photobucket, Picasa, YouTube, and Samsung's own sharing site by uploading them directly from the camera.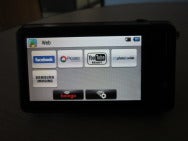 The SH100 also lets you stream or share content to compatible devices on a home network via its AllShare feature, and it can connect to other SH100 cameras for file sharing over a Wi-Fi network.
The various wireless features are surprising on a couple of fronts:We're not used to seeing so many innovative extras in a $200 camera; and they work much better than expected. We've tested a lot of cameras that have built-in Wi-Fi capabilities, and aside from its sometimes-touchy touchscreen interface, the SH100 offers perhaps the best in-camera Wi-Fi experience we've seen to date.
Performance, image quality, and video quality
In our lab's subjective testing for image and video quality, the Samsung SH100 continued to surprise us by posting some outstanding scores for a camera in its price range.
The camera's flash was a bit too powerful in our flash-exposure test, resulting in a lower score for exposure quality. But the SH100 earned scores of Very Good for color accuracy, sharpness, and lack of distortion in our tests, all of which are assess photos taken with the flash turned off. The SH100 earned an overall imaging score of Very Good, and we recommend using it without the flash if at all possible.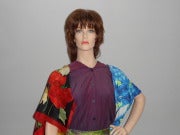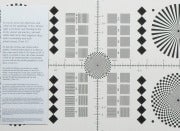 The SH100 didn't fare as well in our video testing, mostly due to some stronger-than-normal contrast in our bright-light test scene and some very noticeable noise and grain in our low-light test footage. It earned an overall video score of Good, as it did for audio capture through its top-mounted microphone. All in all, this camera is a very good all-around performer for its modest price.
Here are the test clips used for our lab's subjective video tests. Select "720p" from the drop-down menu in each player to view the highest-resolution video footage.
Macworld buying advice
The Samsung SH100 is a great bargain for $200. You can certainly find more-camera-minded cameras than the SH100, but this ultracompact snapshooter distinguishes itself from the bargain-bin pack with its wireless sharing features, fun extras, and solid image and video quality. We wish that its Remote Viewfinder features were compatible with more phones than just the Samsung Galaxy S line, but this is about as feature-loaded as a $200 camera gets. The key drawbacks are its toylike size and heft, its sometimes-frustrating touchscreen, and its lack of manual shooting modes.