At a Glance
Expert's Rating
Pros
Easy to shoot video and photos
Built-in projector
Cons
Projector is 4:3 aspect ratio
Bulky
Shoots only at 720p (30 fps)
Disappointing video quality
Our Verdict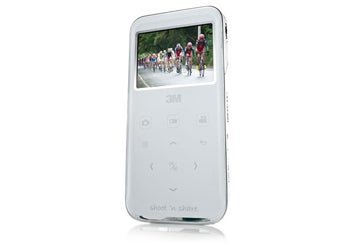 In an attempt to stand out in the crowded pocket camcorder market, the 3M Shoot 'n Share has a unique feature: a built-in projector. However, as a camcorder, the Shoot n' Share could be a lot better.
Because of the built-in projector, the Shoot 'n Share is slightly bulkier than other pocket camcorders on the market. It has dimensions of 2.4 by 4.9 by 0.9 inches, and weighs about 5.6 ounces. It sports a two-inch LCD, as well as an HDMI port, an AV port, and a Micro SD card slot. Below its LCD screen are a camera button, a record button, and a projector button. Below those function buttons are control arrows that allow you to fully interact with on-screen menus.
Performing the Shoot 'n Share's basic functions is not hard. If you want to take a picture, just press the camera button. If you want to record video, just press the record button. If you want to use the projector, just press the projector button and the camera's menu will appear on the surface being pointed at.
If you want to change the camera's settings, or find pictures you have taken, then things get a little more complicated. It's not intuitive to do such things, so you do have to press a lot of buttons and move the arrows around until you fully understand how to perform the tasks. Annoyingly, some of the camera's buttons don't always work right away when you press them.
A major drawback to the Shoot 'n Share is that it has only one video resolution available for video: 720p at 30 frames per second. Other camcorders offer 1080p and 720p at 60 fps. It can shoot photos at 8 (interpolated), 5, and 3 megapixels.
The projector has a resolution of 640 by 480 pixels, and displays images at a 4:3 aspect ratio, not widescreen, despite the fact that video is captured at 1280 by 720. When the Shoot 'n Share's power adapter is plugged in, the projector brightness is rated at 14 lumens. When using battery power, the brightness is turned down to 12 lumens.
In our lab tests, the Shoot 'n Share earned a video quality grade of Fair (on a scale of Poor, Fair, Good, Very Good, and Superior). The camcorder performed poorly in both low light and bright light situations. The audio quality of the videos was also found to be Poor.
The Shoot 'n Share's saving grace is its still photo capability. Its photos were rated on three factors: color, exposure and sharpness. The photos shot with the Shoot 'n Share were given a Fair grade for color, and rated Good for both exposure and sharpness.
While the projector seems like a nifty idea, it is underwhelming. The projected images looked grainy when displayed on clean white surfaces. We also found that the projector's image quality was best maintained with a 8 by 8 inch size.
Macworld buying advice
Unfortunately, the 3M Shoot 'n Share end up being more of a novelty device than a practical pocket camcorder. Though its built-in projector is an interesting feature, it makes the camcorder bulky. And with the subpar video quality from both the camcorder and the projector, it hard to recommend the Shoot 'n Share.