At a Glance
Expert's Rating
Pros
Waterproof down to 10 feet underwater
Easy-to-access buttons
Cons
Poor performance in bright and dim light
Overall unimpressive video image quality
Our Verdict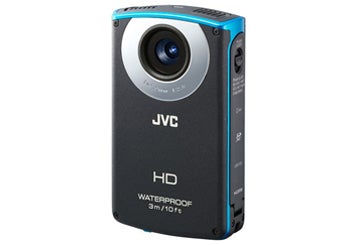 For anyone feeling the urge to record videos underwater, JVC's Waterproof Pocket Camera (Picsio GC-WP10AUS) is more affordable than a standard-sized camcorder that is waterproof. However, if you choose the GC-WP10AUS, don't count on high-quality videos.
The waterproof camera is slightly bulkier than other Picsio camcorders, measuring 2.36-by-3.98-by-0.98 inches. On its right side, hidden behind a pop-out panel, is an HDMI slot, a USB/DC slot, and a SD card slot. A three-inch touchscreen takes up the vast majority of its backside, and is where most the camera's functions are operated.
When you turn the camcorder on, four buttons take up the vast majority of the touchscreen: a camera button, a video record button, an audio record button, and a quality button. Touch the camera button, and you can take still photos. Touch the video recorder button, and you can shoot video. Touch the audio record button, and you can use the pocket camcorder as a digital audio recorder. The quality button lets you change the image quality of the photos (2592 by 1944 or 1920 by 1440 pixels) or videos (720p, 1080p, QHD, or iFrame.) Once in a while, however, you may have to touch the buttons a couple of times before they actually respond.
If you're not interested in using the touchscreen, the camera has a few physical buttons. On its right side, there's a power button, a hold button, and a record button. Also on the right side is a button that allows you to switch between the camera's video and single-shot functions. Overall, the physical buttons are easier to access, especially in water.
The GC-WP10AUS is waterproof up to ten feet deep, so you probably shouldn't use it for scuba diving. It should be fine for snorkeling or a pool.
In our testing, the GC-WP10AUS did not do well in low light or bright light situations. Also, videos are not especially sharp overall. In our lab tests, the camera's video quality was given a score of Fair (on a scale of Poor, Fair, Good, Very Good, and Superior). The camera's audio quality was also given a Fair score.
Though its not a great video recorder, the GC-WP10AUS takes relatively decent photos. Macworld rates photos on three factors: color, exposure, and sharpness. The photos' colors were given a word score of Good. The photos were also found to have Good exposure, but only Fair sharpness.
Macworld buying advice
If you want to take underwater video on a budget, the Picsio GC-WP10AUS can do the job up to ten feet deep. Unfortunately, the major compromise is with video quality.