At a Glance
Expert's Rating
Pros
Basic functions are easy to use
Good video and photo quality
Cons
Poor video performance in dim light
Our Verdict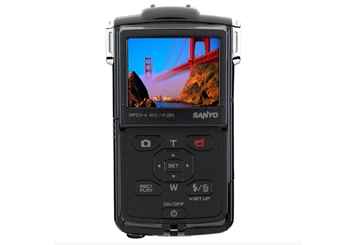 Many pocket camcorders feature a stylish design, and depending on your taste you probably would not include the Sanyo Xacti VPC-PD2BK among them. However, it does what it's supposed to: make good videos.
The Xacti VPC-PD2BK has dimensions of 2.5 by 0.9 by 4.4 inches. The silver and black color combination gives it a distinct look, but what makes the camcorder seem somewhat peculiar is the silver 'ears' that flank the lens. Those are actually the camcorder's stereo microphones, and there's also a flash (for still photos only) on top of the device. Behind a pop-out panel on the left side is a HDMI port and SD card slot (SD card not included). Below the SD card slot is a rechargeable Lithium-ion battery that can last up to 65 minutes when fully charged. A pop-out USB connector on the Xacti VPC-PD2BK's right side charges the battery and can be used to transfer files to your computer.
Most of the Xacti VPC-PD2BK's operating buttons are found on its back, right below its two-inch TFT color screen. There's a photo button, a video button, a record/play button, and a delete button. Between the buttons are arrow keys for navigating the user interface.
The camera is, for the most part, easy you use. If you want to take a photo, press the photo button. If you want to record a video, press the video button. Not too complicated. You may have to check the manual to figure out how to utilize all of its settings (like how to change the camera from 720p to 1080p), but for the most part, it doesn't take long to figure out how to use the camera's core functions.
The Xacti VPC-PD2BK can shoot video at 1080p (30 frames per second), 720p (60 fps), 720p (30 fps), and 640-by-480 (30 fps). Still photos can be shot at 10, 5, and 2 megapixels, as well as at an interpolated 12 megapixels.
Overall, Macworld gave the Xacti VPC-PD2BK's video quality grade of Good (on a scale of Poor, Fair, Good, Very Good, and Superior). The camcorder did well in our tests involving bright lights, but not so well in dimly lit situations, unfortunately. The Xacti VPC-PD2BK's audio quality earned score of Good.
We also found that the Xacti VPC-PD2BK takes good photos. We liked the color depth and exposure, which each earned Good scores. The photos also have Very Good sharpness.
Macworld buying advice
The Xacti VPC-PD2BK is a fine pocket camcorder. At $170, it's one of the more affordable camcorders on the market, and it records video and audio better than some pocket camcorders that are drastically more expensive.