At a Glance
Expert's Rating
Pros
Elegant design
Easy to use
Pleasing photographs
Cons
Disappoint overall video image quality
Fixed storage
Poor video performance in low and bright light
Our Verdict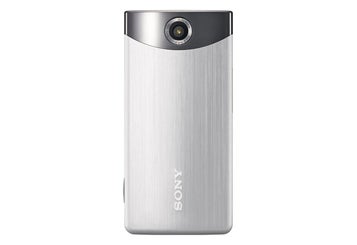 The Sony Bloggie Touch pocket camcorder sports a stunning design, and it's intuitive to use and not hard to operate. It also produces decent photos. However, it is a disappointing video recorder.
The Bloggie Touch is a lean piece of equipment, with dimensions of about 2.1 by 4.3 by 0.6 inches. Its back is primarily taken up by a three-inch touchscreen and record button. Its left side sports a HDMI port, while its right side has its power button and trigger button to snap still photos. On its bottom is a foldout USB connector. The Bloggie Touch does not have an SD card slot or any support for removable media' have to make due with its internal 4Gb or 8GB of memory.
Using the Bloggie Touch isn't difficult. If you want to record a video, all you have to do is press the record button. If you want to take a photo, all you have to do is press the trigger button. The camera can shoot videos in 1080p (30 frames per second), 720p (60 fps), and at 720p (30 fps). Photos are shot at 12, 8, or 2 megapixels.
You use the Bloggie Touch's touchscreen to change the settings. If you want to change video or photo quality, you just have to press a square button on the top right corner of the touchscreen. To access the photos and videos you have taken, you just have to touch the play button on the bottom right corner of the touchscreen. The screen also lets you view the videos or photos you've taken.
In our lab tests, the Bloggie Touch's video quality received a rating of Fair (on a scale of Poor, Fair, Good, Very Good, and Superior). The camera did not perform well in either low light or bright light situations—unusual, since camcorder tend to perform well in bright light situations, but not well in low light situations.
The Bloggie Touch is a much better photo camera than camcorder. The camcorder's photos color quality earned a Superior ranking, and sharpness was ranked at Good. Exposure was rated at Very Good.
The camera's audio recording functions earned a Good rating.
Macworld buying advice
If you're looking to buy a pocket camcorder that is sleek, attractive, and easy to use, then you couldn't go wrong with the Bloggie Touch. You'll find other pocket camcorders that produce better video image quality, however.