Record iPhone and iPad sales combined with continued growth of its Mac business pushed Apple to another strong performance in its fiscal third quarter. On Tuesday, the company reported sales of $28.57 billion and net profit of $7.31 billion for the three-month period ended June 25, 2011.
The sales and profit figures—both quarterly records—increased last year's third-quarter performance by 82 percent and 125 percent, respectively. Apple reported earnings of $7.79 per share, which beat analyst estimates of $5.85. Analysts had also been looking for Apple to reach $24.92 billion in sales for the quarter—a figure the company topped by nearly $4 billion.
"We are extremely pleased with the momentum of our business," chief financial officer Peter Oppenheimer told analysts during a conference call to discuss the earnings report on Tuesday. Oppenheimer noted that during its 2011 fiscal year, Apple has recorded $35 billion in year-over-year revenue growth and $9.5 billion in year-over-year earnings growth—increases of 78 percent and 99 percent, respectively.
Record iPhone sales
Apple says it sold 20.34 million iPhones during the just-completed quarter, a 142 percent increase from the phones it sold during the same period last year. That's also the most phones Apple has ever sold during a quarter, topping the 18.65 million mark set just three months ago.
The iPhone racked up strong sales despite Apple skipping its customary summer introduction of a new model, after releasing the iPhone 4 in the summer of 2010 and the iPhone 3GS the summer before that. The last new iPhone released by Apple was a CDMA version of the smartphone compatible with Verizon's wireless network; that model came out in February. The long-awaited white version of the iPhone also shipped in April.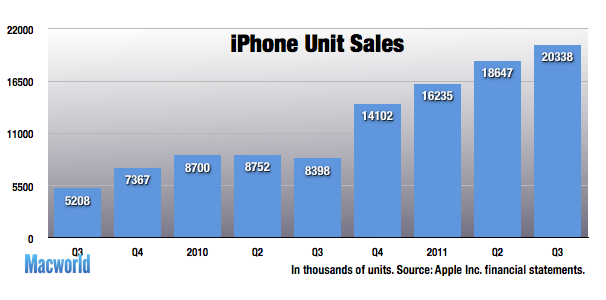 Apple saw $13.3 billion in recognized revenue for its iPhone business during the third-quarter. That's an increase of 150 percent from the year-ago total of $5.3 billion. The iPhone is now available in 105 countries from 228 carriers.
The iPad 2's arrival
Apple sold 9.25 million iPads during the third quarter, the first full quarter of sales for the iPad 2, which arrived in March. Apple says its iPad sales topped last year's figures by 183 percent. It also set a new record for quarterly iPad sales, besting the previous mark of 7.3 million during the 2010 holiday shopping season.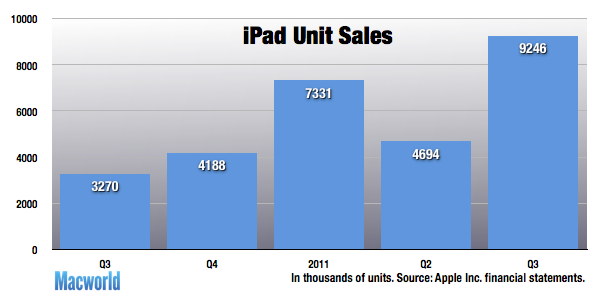 All told, the iPad launched in 36 countries during the quarter, bringing the number of countries where Apple is selling its tablet to 64. Apple reported recognized revenue of more than $6 billion for the quarter, up from $2.2 billion last year.
The iPad 2 launch had been marked by shortfalls and production delays. Oppenheimer indicated on Tuesday that the company has managed to increase iPad production from its second quarter, though iPad inventory remains below Apple's target range. "We sold every iPad we could make," Oppenheimer said.
"The sales of iPad 2 have absolutely been a frenzy for people to get one, and we feel very good about the progress that we've made about ramping up and the reception that we've received in the marketplace," chief operating officer Tim Cook added during Tuesday's conference call with analysts.
Combine iPad sales with all the iPhones and iPod touches sold by Apple, and the company has record cumulative sales of 220 million iOS devices through the June quarter—a figure Apple doubtlessly will tout in the face of increased competition from Google's Android operating system, as the company looks to remind app developers of the iOS platform's reach.
Mac momentum
Mac sales rose 14 percent from last year, with Apple selling 3.95 million computers. That's a record for the third quarter, Oppenheimer said. Growth of Mac sales also outpaced market-research firm IDC's forecasted PC market growth by more than four times, Apple pointed out.
Mac sales grew across all of the regions where Apple does business, though Oppenheimer cited the Asia-Pacific segment in particular. Unit sales of Macs grew 57 percent in that part of the world. (The Asia-Pacific segment excludes Japan, which saw more modest unit sales growth of 16 percent.)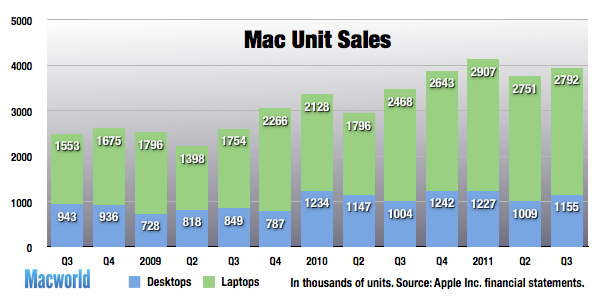 The quarter saw Apple introduce new iMacs with quad-core processors, improved graphics, and Thunderbolt connectivity. All told, Apple sold 1.15 million desktops, accounting for about 30 percent of the Macs sold during the quater. The company sold 2.79 million portable Macs during the quarter, with the MacBook Pro and MacBook Air driving those sales, according to Oppenheimer.
Apple typically avoids addressing future product releases during its analyst calls, but the company had one announcement sure to be of interest to Mac users: Lion hits the Mac App Store on Wednesday. Previously, Apple had told users to expect a July release for the next version of its Mac operating system.
Falling iPod sales
iPod sales continued to decline from the heights of previous years. Apple says it sold 7.54 million iPods, a 20 percent drop from last year, though Oppenheimer said that was above the company's expectations. The iPod touch accounts for about half of all iPods sold, according to Apple's figures, which has helped keep the average selling price of the iPod steady, even as overall sales drop.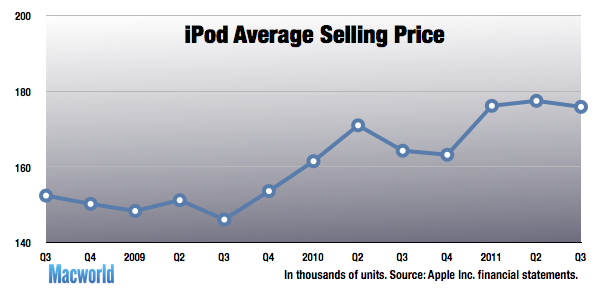 Apple got better results from its iTunes Store, which tallied revenue of almost $1.4 billion. That's an increase of 36 percent from last year's figure, with growth driven by continued downloads. Apple says there are more 225 million iTunes accounts.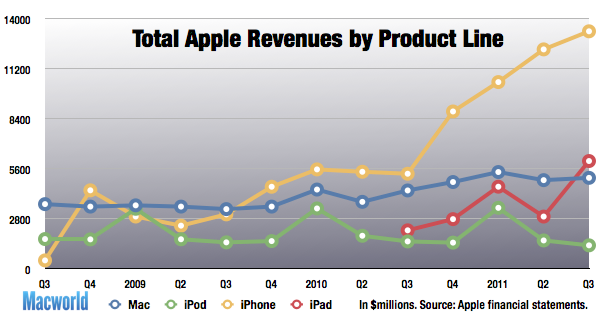 Retail figures
A little more than 10 years after the first Apple Store opened its doors, Apple's brick-and-mortar retail efforts continue to grow. The company's retail arm reported $3.5 billion in sales for the quarter, an increase of 36 percent from last year. Apple sold 786,000 Macs through its stores during the quarter, an increase of 13 percent. Oppenheimer repeated a figure that's become a staple of Apple's quarterly conference call—that half of the Macs sold at Apple stores are to customers buying their first Mac.
Apple opened four new stores during the quarter—all outside of the U.S.—bringing the total number of Apple Stores to 327 by quarter's end.
Look for expansion efforts to pick up in the September quarter, as Apple plans to open 30 new stores, including its first one in Hong Kong. If Apple meets that target, it will have opened 40 new stores during the 2011 fiscal year.
As for its virtual store front, the App Store now offers more than 425,000 apps. Oppenheimer noted that the store passed the 15 billion download mark last week and repeated a figure from last month's Worldwide Developers Conference: that Apple has paid out $2.5 billion to developers for iOS apps sold through the App Store.
The road ahead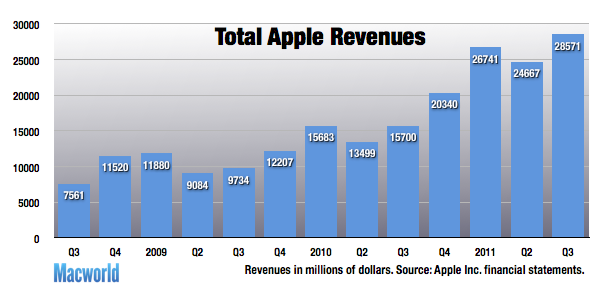 Apple finished the quarter with $76.2 billion in cash and short- and long-term investments. The company also outlined—in painstaking detail—its plans to defer revenue related to the release of Lion and iLife via the Mac App Store and the upcoming debut of Apple's iCloud online services.
For the coming quarter, Oppenheimer told analysts to expect earnings per share of $5.50 on revenue of $25 billion. Oppenheimer's guidance is notoriously conservative—prior to Tuesday's call, analysts were predicting earnings of $6.42 per share on revenue of $27.70 billion for the fiscal fourth quarter.
Updated at 1:56 p.m. PT with more details about iPhone, iPad, Mac, and iPod sales figures. Updated at 2:29 p.m. PT with more details about Mac sales and quotes from Peter Oppenheimer. Updated at 2:58 p.m. PT with more information on retail sales and forecasts for the fiscal fourth quarter. Updated at 3:16 p.m. PT with more details on iPad and iPhone sales figures. Updated at 3:57 p.m. PT with comments from Tim Cook.