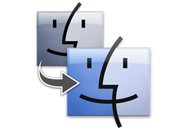 In preparation for Lion's launch on Wednesday, Apple on Tuesday released a Migration Assistant update for Macs running Snow Leopard.
The update, a minuscule-sized 714KB, enables Snow Leopard users to easily transfer their personal information, settings, files, and applications to a Mac running Lion. Note that this update is primarily for users with multiple computers who are planning on transferring data from a Mac running Snow Leopard to one running Lion; if you're upgrading your Mac directly to Lion, you won't need to use Migration Assistant.
Users can download the update from Apple's Support Downloads website or using the Software Update feature in OS X. You'll need to be running the latest version of Snow Leopard (OS X 10.6.8) to install the update.