AirDrop is Apple's alternative to sneakernet—a way to easily transfer files between one Mac and another without setting up a complicated network. It works this way.
Open a Finder window on a Mac running Lion and select the AirDrop entry in the sidebar. (Alternatively you can choose AirDrop from the Finder's Go menu or press Shift-Command-R.) Any Macs within about 30 feet that have Wi-Fi turned on will appear in the AirDrop window. More specifically, you'll see either the user's account icon or, if that person is one of your Address Book contacts, the image you've associated with them. Note that these Macs don't have to be on the same Wi-Fi network; if they aren't, AirDrop can connect them peer-to-peer.
To transfer a file to another Mac, you just drop it on that Mac's icon in the window. A small window will pop up to ask, "Do you want to send filename to mac #2?" Click that dialog's Send button and you'll see the message, "Waiting for mac #2 to accept."
If you were on the other Mac, you'd see a dialog box reading, "mac #1 wants to send you filename." You could then choose to Save and Open, Decline, or Save. If you chose Save and Open or Save, the file would be copied. If you chose Save and Open but don't have an app that supports the copied file, you'd see a warning that reads, "There is no application set to open the document filename." This is accompanied by Choose Application, Cancel, and Search App Store buttons. When I sent a GarageBand file from one Mac to another that didn't have a copy of that app installed and then clicked on that Search App Store button, the App Store opened and displayed GarageBand for the Mac.
Note that if someone else's AirDrop window was opened but has since been closed, that user icon may still appear in your AirDrop window. If you tried to send a file to that user, you'd (eventually) see a message that reads "The transfer failed. Please try again." This gives you the opportunity to yell across the room, "Hey Mary, I'm trying to send you that file, open AirDrop!"
One other note: AirDrop won't work on every Mac. According to Apple's tech specs for Lion, it'll work on the MacBook Pro (late 2008 or newer), the MacBook Air (late 2010 or newer), the MacBook (late 2008 or newer), the iMac (early 2009 or newer), Mac mini (mid-2010 or newer), and the Mac Pro (early 2009 with AirPort Extreme card or mid-2010). (Hat tip to Glenn Fleishman and TidBITS for pointing out that one.)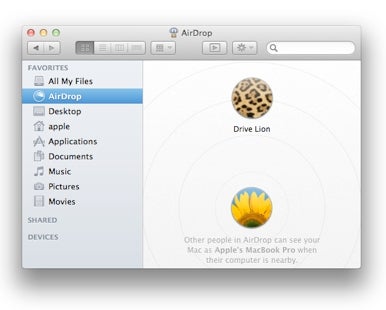 Screen Sharing
Screen Sharing under Lion has been significantly enhanced. To begin with, it's now possible for you to not only view the display of another Mac, but also share the screen for any account you have access to on that Mac, even when someone else is using it with another account.
For example, let's say a remote Mac has two user accounts—Joe and Jane. Joe is currently working on that Mac in his account. From another Mac, Jane can select that Mac under the Shared heading in a Finder window, click Share Screen, and enter her user name and password in the resulting dialog box. When she clicks the Connect button, a Select Display window appears. Within this window are two options—Ask to Share the Display and Connect to a Virtual Display. If she clicks Ask to Share the Display a message appears on the other Mac indicating that Jane would like to share the screen. If Joe clicks Share Screen, Jane can see what's on Joe's screen as well as control Joe's account.
If, instead, she clicks Connect to a Virtual Display she can choose to view and control any account she has access to on the other Mac. She can, for example, select the Jane account, enter her password, and her account will launch in the background on the remote Mac. The only indication Joe will have that this is happening is the appearance of the Screen Sharing icon in the menu bar. Jane can then work with the Mac remotely while Joe is also using it.
Additionally, Screen Sharing now offers you two display modes—Hardware and Virtual Display. Hardware is the display mode we're accustomed to. When you've connected to another Mac via screen sharing, that Mac's display image appears on both that Mac as well as on your Mac. When you choose Virtual Display, you see the remote Mac's image but the display on the host Mac switches to the Mac's gray log-in screen. In order for the person sitting in front of that Mac to regain control of it, he or she must log in with his or her password.
There's also a new Observe mode (also available from the View menu). Turn that on and you can see what's happening on the remote Mac, but you can't control it. This could be useful for watching a presentation on another Mac, for example.
Finally, Screen Sharing includes a new toolbar that appears when you run Screen Sharing in full-screen mode. Within it, you can switch between Control and Observe Mode, trigger the Fit Screen in Window command, take a screen shot (a command also found in the Connection menu for taking a screen shot of everything on the remote Mac's display), and get the contents of the remote Mac's Clipboard as well as send the contents of the Clipboard from the Mac you're working with to the remote Mac.