[This is part one of a two-part series about how to create and publish a comic book or graphic novel on your Mac.]
Years ago I used my Mac and the services at my local copy shop to create small print runs of comic books to sell at comic conventions. Times have changed, but there's still something to be said for making comics the old-fashioned way, with ink on paper. Using your Mac and some additional hardware and software, you can create your own comic books and graphic novels that look good without breaking the bank. In this first of two articles, I'll discuss the materials you'll need, how to scan your artwork into your Mac, and how to make those scans look their best.
Plan your project and gather equipment
A look at the sample projects in your local copy shop will tell you the sky's the limit in desktop publishing, but some options are more economical than others. I wanted my comics to be inexpensive to produce, so I created 24 pages of black-and-white art printed double-sided on standard letter-size paper. These pages were then folded and stapled to make a 5.5-by-8.5-inch booklet. You can expect to pay roughly $100 for 100 booklets made this way, but prices will vary. If your budget is higher, extra features like trimming, different paper stocks, and even color printing can improve the look of your final product. I'll talk about those in greater detail in the next article.
Besides your Mac and the original artwork, you'll need a scanner to import your artwork into your computer. Almost any highly rated letter-size flatbed scanner capable of capturing 300 pixels per inch will do. You'll also need an image editor like Photoshop or Pixelmator to clean up and style your scanned images, and a page-layout application like InDesign, Pages '09, or Word '11 to assemble your scanned artwork into a book.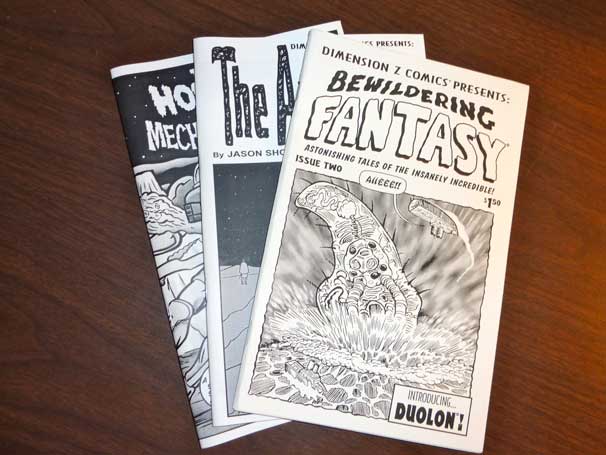 Prepare, reduce, and scan your artwork
My original art consisted of ink drawings at 10-by-15 inches. Your art might be in a different medium at different dimensions, but I'd recommend working smaller than 11-by-17 inches so you can reduce it with a standard photocopier to fit a letter-size scanner. No matter the size, thoroughly erase any guidelines or other stray marks before you begin shrinking or scanning. You want to keep as many of these blemishes as possible out of your digital files.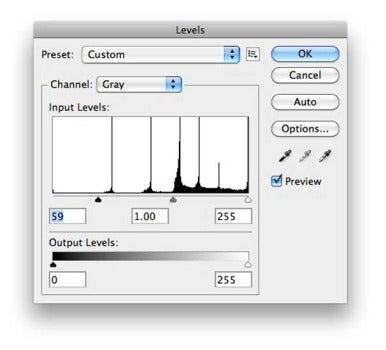 To reduce the size your artwork inexpensively, use a photocopier with clean scanning glass. Place your artwork flush with the photocopier's positioning guides, and reduce it to fill a sheet of letter-size paper. I reduced my art by 64 percent, but you may need to experiment for the best proportions. You'll apply this percentage to all your pages, so make a note of it.
Before reducing all of your artwork, make test copies experimenting with different brightness and contrast settings. You want to find the setting that most closely preserves the artwork's original appearance without lightening or darkening the image. When you find the setting that works best, make a note of it, and then use it to make reduced copies of all your original art. Copying onto standard white inkjet or copier paper works fine.
With letter-size copies of your artwork, you're ready to begin scanning. Set your scanning program's image type to grayscale with a resolution of 300 pixels per inch. This will give you the image quality you need for printing on typical laser printers without creating unwieldy file sizes. Create a folder on your Mac, and scan your photocopies to it, saving them as LZW-compressed TIFF files with descriptive names. These should tell you the project the scan is associated with and its page number in your final comic book. It's good practice to start these names with a two-digit page number (such as "01-MyComicBookName.tif") to make it easy to identify the matching file for a given page in your layout application's image import menu.
Enhance your scans and add effects
Even sharp scans of the best photocopies will benefit from fine-tuning in your image editor. To get started, open your first scanned page and straighten any accidental skewing that may have occurred during copying and scanning, then crop tightly around your artwork.
Next, enhance your artwork by adjusting its shadows, highlights, and midtones with the Levels feature. If you're scanning line art, you'll mostly use the shadow and highlight sliders to get deep blacks and bright whites, respectively. Most toned artwork, like pencil drawings, can be enhanced with many of the same controls you'd use for enhancing photos, such as Levels, Brightness, and Contrast. When your picture looks right, you can start using the eraser and paintbrush tools to remove or draw over any blemishes that haven't already disappeared. Repeat these steps for all your artwork, and remember that because it will print at a fairly small size, you don't need to fix every little flaw you find.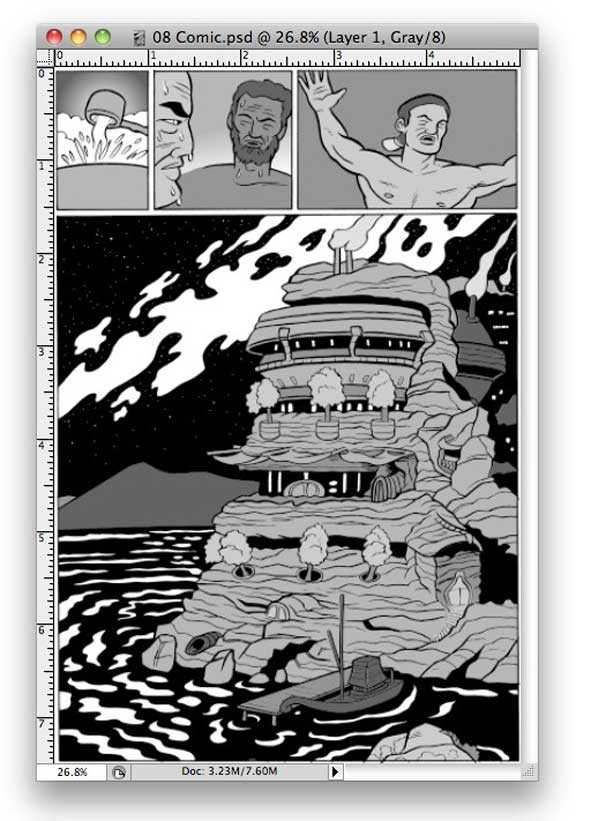 With a clean scan, you can now copy and paste sections of your artwork, rotate and flip entire panels, or apply filters for unique effects. You can even save time by drawing large areas of black, like shadows or night skies, with a Fill or Paintbrush tool instead of ink on paper. For greater visual interest, you can add grayscale tones to black-and-white line art with an image editor that supports layers. Just create a new layer beneath your line art, and set the line art level's blending mode to Multiply. Set your Paintbrush to a gray tone, and select the new layer and draw. The tones will fill the white areas of your artwork without damaging the original scan. Note that these images will need to be saved in your image-editor's native file format, then flattened and re-saved as TIFFs to import into your page-layout application.
That should be more than enough to keep you busy until tomorrow, when I'll talk about assembling your polished image files in a single document, adding text to your pages, and producing a finished file for your copy shop.
[Adam Berenstain is a freelance writer and comic book artist in upstate New York.]