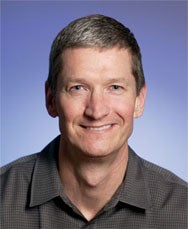 [Apple COO Tim Cook spoke to analysts after Apple's record financial results Tuesday. This is an edited transcript of his remarks.]
iPad cannibalization?
In terms of cannibalization, we do believe that some customers chose to purchase an iPad instead of a new Mac in the quarter. But we also believe that even more customers chose to purchase an iPad over Windows PC. As I've said before, there's a lot more of the Windows PC business to cannibalize than the Mac. Also we believe that the Mac has many other attributes that would make it continue to do well in the market. We're very happy that we grew 14 percent versus the market's growth of 2.6, which is about five times. So that's what we see with iPad.
We were still selling every unit we can make during the quarter, and that was the situation as we ended the quarter. As we've stepped into July, over the initial weeks, to give you a more current update, we have been able to increase the supply further, and some SKUs in some countries are at a supply/demand balance. But we're still working very hard on the balance of the world. The sales of iPad 2 have absolutely been a frenzy for people to get one, and we feel very good about the progress that we've made about ramping up and the reception that we've received in the marketplace.
Overseas markets
China was very key to our results. As a reminder, for greater China—mainland China, Hong Kong, and Taiwan—year-over-year it was up over 6 times. And the revenue was approximately $3.8 billion during the quarter. And that makes the year-to-date numbers through the three quarters we've had thus far around $8.8 billion. So this has been a substantial opportunity for Apple, and I firmly believe that we're just scratching the surface right now. I think there is an incredible opportunity for Apple there.
[For the iPhone,] we did add 42 new carriers and 15 new countries during the quarter. So we continued our expansion efforts… However, those occurred throughout the quarter. The real sequential improvement, frankly, was due to emerging and developed markets. China was a big part of it, Latin America (driven by Brazil and Mexico) was a big part of it, and the Middle East was a big part of it. Which I think is great for Apple, because these are markets that Apple historically has not been as strong in. And we're really beginning to see the fruits of our labor in these markets.
Prepaid or unlocked phones—said more in English, phones sold without a contract—are very key in China and a number of the emerging markets, where the credit systems are not as well established as they are in the U.S., Japan, western Europe, Australia, et cetera. You can look at our volume, the iPhone volume for the first three quarters of fiscal year was up 5 times year-over-year. And iPhone is the key contributor to greater China having a cumulative revenue of around $8.8 billion for the first three quarters. And so I'm not saying at all that we have figured out precisely how to play perfectly in the environment—we haven't. I think we have more to do and more to learn, but I feel very, very good about our progress.
If any of us would have been told a year ago that we would do $3.8 billion in greater China in a quarter, I don't think very many of us would have believed it, and I don't think any of you would've believed it. And so we feel very, very good about it and we're taking those learnings and applying those to other markets as well.
Patents and intellectual property
We have a very simple view here. And that view is, we love competition, we think it's great for us and for everyone, but we want people to invent their own stuff. And we're going to make sure that we defend our portfolio appropriately.
Android and iPhone growth
I think the Android activation number is a difficult one to get our hands around. Because unlike our numbers, which you can kind of go to our data sheet, and add the iPhones and iPads, and make a reasonable approximation of the iPod touch—which we said is over half of our iPod sales—you can quickly see that in June quarter we sold over 33 million iOS devices. And across time… we're now over 222 million cumulative iOS devices. So we think this is incredible. So our numbers are very straightforward, they're transparent, and they're reported quarterly.
In terms of iPhone, iPhone is up 142% year over year. This is more than two times the rate of growth of the smartphone record. We think that's incredible. Also, we sold every iPad 2 in the quarter that we could make. So there's certainly not a shortage of demand. We're also gaining traction in enterprise. Now our attention is converting to more of a penetration focus.
Our App Store is the largest by far, and if you look at iPad-specific apps, we're over 100,000. I think you'd be hard pressed to find more than a few hundred on the other platforms. It also doesn't appear that the other tablets are getting any traction to speak of. And we've paid over $2.5 billion to developers, and so there's a great business proposition for developers. And you can tell that customers love it, because we have well over 15 billion apps that have been downloaded.
And so we're very, very confident of the product. We're confident with the App Store. We're confident with our proposition with developers. The customer satisfaction in every survey I have seen ranks the iPhone number one. And so we're very confident in the customer reception. We're also very confident in our road map. And so we feel very, very good. You may have seen the data that just came out from ChangeWave that reaffirmed once again that iPhone is the clear leader in customer satisfaction, and also was the number-one preference of those people planning to buy smartphones in the next 90 days. And so it seems like there's a lot of great things, and we feel absolutely fantastic about it.
Apple TV
Apple TV continues to do well. But I don't want to mislead—we still call it a hobby here, and we do that because we don't want anyone to conclude that it's another leg of the stool, because it's not in the same size market as the iPhone is in, or as the iPad is in, or that the Mac is in, or the iPod is in. And so we love the product, it's clear that customers love the product. We really got it right when we went to the new Apple TV just last fall. But right now it's still a hobby status that we're continuing to invest in it, because we think that there's something there.
Retail and the supply chain
[Question: Is Apple at the point now where you have to diversify your contract manufacturing base as well as your non-Apple retail channel?]
In terms of the non-Apple retail channel, if you take the iPhone as an example—which as you know makes up a large percentage of our business—we have about 115,000 points of sale. And so I feel that we're incredibly diversified. We're selling through carriers, through retail, we're selling through our own stores, through our online store, we're selling through companies that have direct sales forces that sell into enterprise. I think the channel is extremely well diversified. There are still countries where we're still building the channel, so I don't want to give you the view that I think the journey is completed. But in the mature markets, I feel the channels are in good shape, and in the markets where we're putting more and more energy, there's still channel development to do there, but I think it's well understood and under control. So that's not something that I worry about at all, actually.
In terms of suppliers, I don't want to get into this in any detail, because I think that this is one of the things for us that is part of the magic, and a part of the things that we feel that we have some secret sauce in, and I prefer not to share it. But your general point about, are we too centralized in one place, are we too dependent on a place, you can bet that the people here that are involved with supply chain—we have some outstanding ones—always ask that question and always at the end of the day make the right decision for Apple.
Expanding the iPhone market
I think what you would find if you went out and talked to [carriers] around the world, virtually all of them are desirous of having more and more customers have a smartphone and beginning to use data on their networks, because this is a way for them to expand their [average revenue per user]. And I firmly believe there is no better device than the iPhone for someone to move from any phone up to a smartphone. The ease of use is just unparalleled and the ecosystem is unparalleled. And so I think there's a good alignment in that area.
I mentioned a few moments ago that the key driver in our sequential improvement in iPhone units were emerging and developing markets. So you can see putting more and more energy in these markets that have been a bit more difficult to do well in, versus some of the markets in the established countries and primarily subsidized countries. I think we have a very good focus here and I think we can compete with anyone.
Those markets that I mentioned we were doing well in, there are some percentage of postpaid in some of those markets. But if you looked at the market in the aggregate, most of those markets are predominantly pre-pay. In some cases we've convinced someone to start a post-pay plan because in the long term I think that's better for the customer, the carrier, and us. But in general we're also playing in the pre-pay market, we're not avoiding that market, we don't want to avoid that market. We know that we need to play there in order to have the kind of volumes that we'd like to have.
Share gain is important. Anywhere we're going the opposite way, we're not happy, and you can bet that we're working hard to change that. In terms of playing at different price points, we do offer… the 3GS is an example today, which in the U.S. is $49 with a contract. And if we step that out into prepaid markets, it really depends upon the VAT and duty and channel… so it varies greatly market to market. But it's clearly in a distinctly different price than the iPhone 4 is.
Our philosophy is the same as it's always been. We will only make products that we're proud of, that are the best in the world. And if we can do that and the price is lower, then we're great with that. An example of that that happened some time ago is, the iPod Shuffle was created, it started at a different price point but it's now at $49. That's because that's a product we're very proud of, it's very innovative, a lot of people love that product. And so that's always the question for us, and the litmus test. We will only make products that we're very proud of, that we want to own, that are the best in the world, regardless of the price analysis.
Also, as I'm reminded time and time again when I look at the China data, it's up to us to convince people to maybe spend a little more for a maturely better experience and product. And we've seen that people will do that, if the product is great and if it's messaged appropriately. We have a lot of experience in both of those areas.
Slower Mac growth?
First of all, I'm proud of the numbers that we've achieved. To grow at 14 percent when the market is growing at 2.6 percent, doing five times the rate of growth, is certainly something to be proud of. However, in terms of 'Why isn't the number isn't higher than 14?' Obviously we always focus on that, no matter if the number was 42, we'd focus on that. I think there are three things that are the primary factors. And I don't want to try quantify these for you, but I do want to list them, so you know how we look at it:
The first is, as I've said before, I think there was some cannibalizations of new Macs by iPads. We shipped a record 9.2 million iPads during the quarter, which is over two times the number of Macs shipped. And it's clear that some customers chose to purchase iPad instead of new Mac, but the thing that really excites us is that more customers chose to buy an iPad than a Windows PC.
The second one is, I think some customers have delayed purchase until Lion becomes available. We are launching Lion tomorrow. And we're looking forward to getting Lion out, it's a fantastic product; the guys have worked very, very hard on it. It's really a revolutionary change.
The third thing that I wouldn't discount is, in the year-ago quarter, we launched new MacBook Pros. In this particular quarter we launched new iMacs. Both products were well received, however the MacBook Pro makes up the majority of the units that we sell in the Mac area. And so obviously, if you change the MacBook Pro and it's well received, it's going to make the comp more difficult to compare to.
So those are the three things that I think are primarily why the number isn't more than it is, but I don't want to lose sight that it's already five times the industry, and this is 21st consecutive quarter that we've beat the market.
The iPad
I don't want to give you specific yield numbers, but the supply of iPad improved dramatically in the quarter. That allowed us to do the over 9.2 million, that's up from the 4.7 from the prior quarter, so we added almost 100 percent. We further improved the supply in the initial weeks of July, so that's allowed us to get into supply/demand balance on some SKUs in some countries. And so I feel very, very good about our progress in that area.
This is a good sort of problem, per se. The demand is fantastic, so there's not something that I would point to on the supply side and say that this has created a huge issue. It's a good problem. And as I said before, and I don't generally do that, but in this case I am, to talk about July and the first weeks of July… we're a little over 3 weeks into quarter. Supply has further improved since we ended our June quarter. And that further improvement has led some SKUs in some countries to become in supply/demand balance. Now I'm not going to project what will happen to the other countries, but obviously we're working very hard to get as many units to customers as we can.
We have a dual prong strategy with enterprise for iPad and iPhone. We work with carriers sales forces, and they have very large ones because they sell their services into enterprise, and many of these enterprises want one of our devices connected to it. And so we train and provide quite a bit of help to the carrier forces. Plus we do some sales directly ourselves, or act as an overlay sales force to a channel that sells to enterprise. I would characterize this as, we're still building it out, and we do a bit better each quarter. We're very, very happy… about the level of interest and taking people to the pilot and initial deployment stages. And now our attention is moving to penetration within those accounts, versus sort of getting on the standards list.
I think if you really looked at it fairly, to be this far into the enterprise with a product that's only been shipping for 15 months in the case of iPad, is absolutely incredible, because the enterprise is typically much more conservative and takes a long time to evaluate products. And in this case, people are moving at a speed I haven't seen. Also, in a group that's not thought of as enterprise, K-12, also takes a very long time for a new product category. But last quarter we sold more iPads in K-12 than we did Macs. And to do that after just five quarters is absolutely shocking. We would have never predicted this. And so we feel very, very good about the different areas that iPad is being sold into. It's clear that it has a universal appeal in many different markets, from consumer to business to government, and on and on.
I don't want to make a comment about iPad, except that we think iPad will grow significantly year over year. We'll leave the rest of it to you to conclude. And then we'll be very happy to report in October how we did.