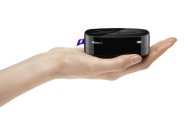 In non-Mac news, Roku—maker of video-streaming set-top boxes—announced on Wednesday that it was releasing a brand new line of its players: the Roku 2. The new devices sport a much smaller design than their predecessors, now measuring in around the size of the competing Apple TV.
There are three models to choose from: the $60 Roku 2 HD, the $80 Roku 2 XD, and the $100 Roku 2 XS. All provide video playback from a variety of sources, support Wi-Fi via 802.11b/g/n, have Bluetooth capabilities, and play high-definition video (where available) at 720p. The XD adds support for 1080p resolution, and the XS offers an ethernet port and a USB port.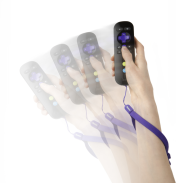 The top-of-the-line XS model also includes the Roku 2's new Bluetooth motion-capable remote. In addition to using the buttons to control browsing and playback on your Roku 2, you can use the motion sensitivity to play games, such as Angry Birds (itself also included free with the Roku 2 XS). Owners of the HD and XD will be able to purchase the remote separately for $29.
Roku has seized upon games as the next big growth opportunity for its product. In order to aid in that endeavor, the company has also souped up the GPU in its devices. Roku says it's aiming to bring many casual titles to its platform in the next few months, and is targeting prices around $5.
A number of new content channels are also now available or will be shortly, including AOL HD, Facebook, and FOXNews.com. Existing channels have gotten updates as well, with the Netflix app now sporting 1080p capability and subtitles. Altogether, Roku says it's approaching 300 channels for its platform.
Roku's players are a major rival to the Apple TV, a device which Cupertino has long described as "a hobby." That stance was reiterated by chief operating officer Tim Cook during the company's quarterly financial conference call on Tuesday. However, Cook said that Apple would continue "to invest in it, because we think that there's something there."