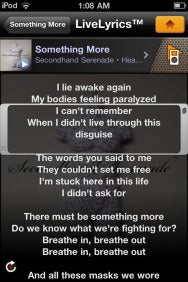 For people who love singing along to songs, but could never win on an episode of Don't Forget the Lyrics, SoundHound has updated its self-titled iPhone apps to add a new feature that can help. Released Wednesday, the 4.0 versions of SoundHound's music recognition apps now include LiveLyrics, a feature that makes it possible for users to see a song's lyrics as the music plays.
Both the free, ad-supported SoundHound and the $7 SoundHound Infinity offer unlimited use of LiveLyrics. Whether you are playing songs on your iOS device or are listening to music on the radio, the app can recognize the track being played and then spit out the lyrics. LiveLyrics has an extensive library, covering 500,000 songs with plans to expand to 1 million songs by the end of the year, so you won't be mumbling guessed words to songs any longer.
LiveLyrics also automatically aligns its lyrics with the music by outlining the section of the song being played. Users have the option to scroll through lyrics, then return to the section being played with a single tap. And if you're listening to a song on your iPhone, iPod touch, or iPad, you can also double-tap a line of lyrics and the app will skip to that section of the song for you.
Lyric features are becoming an integral part of music-recognition apps like SoundHound. Last month, Shazam added a real-time lyrics feature to some of its iOS apps, using technology it acquired when it bought a company earlier this year. Shazam's live lyrics capabilities are found in its paid Encore and Red apps for the iPhone; Shazam for iPad and the free iPhone version of Shazam don't support the feature at this time.