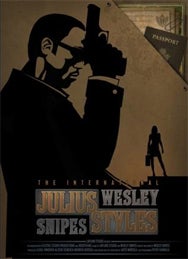 Julius Styles: The International is an upcoming iOS game from developer Lapland Studios. It's an isometric 3D adventure where players take control of the titular Styles: an "economic hitman—an expert in persuasion, blackmail and assassination." Taking the form of an action game with puzzles, it's up to the player to guide Styles through various operations and get to the bottom of a worldwide mystery.
Oh, and the game has had considerable creative input from Wesley Snipes. Yes, that Wesley Snipes. He's helped create the character and lends his voice to the game, too.
"This project was inspired by my desire to bring my Art of War, Murder at 1600, and Passenger 57 characters into the game world," said Snipes. "Julius Styles will offer something for both the mind game strategist and the [kick-butt] special ops warrior lover."
Okay then.
The first episode of Julius Styles will be available via the App Store on August 11. The original announcement of the game claims we can also look forward to Mac, Xbox, PS3, WiiWare and Android releases later in the year, but there's been no mention of those versions in the most recent press release.