At a Glance
Expert's Rating
Pros
Very easy to use
High-quality lenses with great photo results
Sturdy and well protected
Cons
Not compatible with cases or screen protectors
Only compatible with iPhone 4
Our Verdict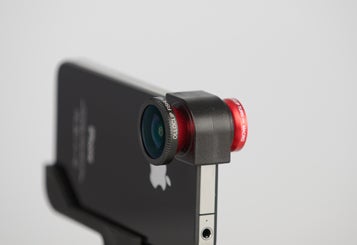 With smartphone photography booming in popularity, it seems like a new iPhone-specific camera accessory comes out every few days. One of the newest of the bunch is the $70 Olloclip, a three-in-one, clip-on lens that makes it possible to shoot macro, fisheye, and wide-angle photos and videos on an iPhone 4.
The Olloclip works by clipping to the camera corner of the iPhone. The clip section is made of molded plastic and fits securely on the phone, without causing any damage to the iPhone body. If you keep your iPhone in a case, you will need to remove it in order to use the Olloclip. And since the fit is so snug, it also has problems clipping onto iPhones covered with screen protectors (the clip was not compatible with my invisibleSHIELD Dry protector).
Other than not playing nice with cases and screen protectors, the Olloclip is smartly designed. It has two sides, one with a fisheye lens, and another with a smaller, wide-angle lens. You can easily unscrew the wide-angle lens to reveal a third, macro lens. Switching lenses is as simple as flipping the clip over.
In our photography tests, each lens option worked really well, producing high-quality images with the desired effect. Click on any of the sample images below to get a closer look. I recommend using a tripod or steadying device when shooting with the macro lens, since even the smallest shaking can render the photo blurry.
Carrying the Olloclip with you, in a pocket or purse, is easy. The Olloclip is smaller than a house key and can easily fit into your pocket or purse. This makes is a neat option for people who love taking macro or wide-angle photos, but not carrying around a bulky camera. The fisheye and wide-angle lenses also have secure, plastic lens caps, so you don't need to worry about the glass getting scratched while bouncing around in a bag with sharp items. The Olloclip also comes with a little microfiber pouch that doubles as a cleaning cloth.
The $70 price tag is a a bit steep for an iPhone camera accessory, but for those who use their iPhone as a primary camera, it's is a worthwhile investment. Developed by two Californians as a Kickstarter project, the Olloclip received more than $50,000 over its original funding goal, making the leap from cool idea to available product. The Olloclip is a high-quality lens with multiple uses, and is compatible with the standard iPhone 4 camera in still and video mode, any number of photography apps, and with FaceTime.
The Olloclip requires an iPhone 4 and can be purchased from the company website.
[ Alexandra Chang is a Macworld intern.]