A quick glance at our home page reveals that this Lion thing is a Big Deal. And when such Big Deals come along, they're invariably followed by Big Complaints. In the case of Lion, these complaints have focused on the death of PowerPC applications, the lack of a media option for installing Lion, and a new "natural" scrolling default that, to many seasoned Mac users, feels completely unnatural.
And yet, there's been nary a peep about the termination of one of the key features of Apple's digital hub strategy: Front Row, the media-center-on-the-Mac application that was wildly popular until everyone seemed to forget that it was there. Today, install Lion, mash Command-Escape, and what you get is absolutely nothing.
Even the most minor superheroes and unfortunate hamster breeds have their legion of stalwart defenders, so I will be surprised not one smidge if I see comments claiming that Front Row was all that kept some of you from collapsing under this vale of tears. However, from Apple's perspective, you can understand why Front Row was erased from the Lion whiteboard. Let me count the ways:
The Digital Hub is dead Back in 2001, Steve Jobs popularized the phrase "digital hub" during a Macworld Expo keynote presentation. The idea was that all the media dear to you—music, movies, and photos—would be housed on your computer. From this central repository you would play/display that media on your computer, incorporate it into projects, and share it with other devices, computers, and users. To underscore the idea, out came iLife, iTunes added video playback to its repertoire, and Front Row was released as a way to easily play all the media on your Mac.
With Apple's recent announcement that the Mac is now " just another device," the digital hub is no more. Sure, iLife is still around and iTunes' multimedia playback capabilities aren't going anywhere, but the notion of your computer as central media repository is outdated in Apple's eyes. It's now about the cloud and streaming media.
Front Row given a back seat If you're still sitting in front of a Mac running Leopard or Snow Leopard, give Command-Escape a push. If you likewise purchased the first Apple TV fairly early on, think back to how it looked when you first fired it up. Now peer at the interface of your more recently purchased second-generation Apple TV. Now back to Front Row. What have you observed? Right, today's Front Row looks strikingly like the original Apple TV's first interface. None of the interface or feature changes introduced with the new Apple TV made their way to Front Row. This hints to me that Apple stopped caring about Front Row sometime in 2007.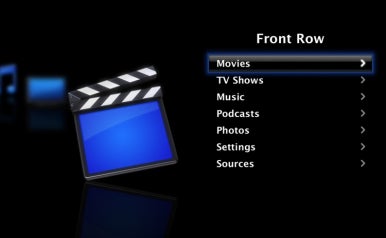 As evidenced by iWeb and iDVD, Apple's willing to keep some dead-to-them technologies on life support while the company prepares a replacement (or gives up on them entirely), but when that replacement is finally fully baked, you can expect no pity for these now-outmoded technologies. Again, streaming is the New Way. Lion exists, in part, to help enable that New Way, and applications that reflect the old way are issued a one-way ticket to the glue factory.
You probably never used it anyway If you're in the process of preparing a research grant to determine the percentage of people who post on Internet forums to heartily agree with an article's viewpoint versus those who take (often cantankerous) issue with that same viewpoint, let me save you the trouble. Agreement along the lines of "Right you are!" is vastly outweighed by "Sez you!" retorts. So, when I claim that the vast majority of Mac users have either never touched Front Row or invoked it as often as they've composed an Oscar-winning soundtrack with GarageBand, I fully expect the S.Y! response.
But more reasonable heads know it's true. Front Row was a cute idea, but unless you were among the minority who used their Macs as a media center, you probably got little use from Front Row. I can imagine that when Apple was first putting together a list of legacy features to bring over to Lion and it was Front Row's turn, the discussion went "Whoa, that's still there? Anyone here using it? Anyone…? No? OK, out it goes."
The computer as media center is geeky fun, but…. I've spent hours configuring and writing about the Mac mini as media center. I'm still keen on the idea and have a Mac mini incorporated into my AV system. But I'm the only member of the family who uses it. Setting up and operating a media center Mac is not for the technologically shy. And while I admire those who use a computer as their one-stop media consumption device—video player, stereo, and picture viewer—many of the rest of us have moved out of the dorms and determined that a TV, AV gear, and a way to stream Internet content is far preferable.
That said, if you still want a media center Mac, there are other options that, in many ways, are superior to Front Row. I'm talking about the Plex, Boxee, and XBMC media center applications. Like Front Row they gather all the media on your Mac and provide access to it through attractive and intuitive interfaces. Unlike Front Row, they do a whole lot more, including streaming a wealth of Internet content—audio as well as video.
If you have a hard time letting go…
So, under Lion, Front Row is dead. Unless it isn't. (Or, unless it is.)
If the lack of Front Row is the one thing that's keeping you from moving to Lion, I have this kinda/maybe bone to throw you, courtesy of one radiv78 posting at Apple Support Communities. From a Mac running Snow Leopard, copy these files to the same location on a Mac running Lion.
/System/Library/CoreServices/Front Row.app
/System/Library/PrivateFrameworks/BackRow.framework
/System/Library/PrivateFrameworks/iPhotoAccess.framework
/System/Library/LaunchAgents/com.apple.RemoteUI.plist
/Applications/Front Row.app
What makes this a kinda/maybe bone is that it might not work. Rumor has it that iTunes 10.4 breaks this hack, yet I've had success with it on two Macs running a clean installation of Lion as well as the latest version of iTunes. On a third Mac, however, no joy. If you're inclined to tinker, give it a go. It might work. If not, Plex, Boxee, and XBMC are worth looking into if you require a media center Mac.
Updated 9:30 AM to include kinda/maybe weasel.