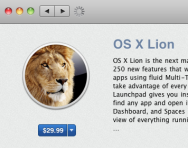 Apple on Thursday announced that more than one million customers bought and downloaded Lion in its first full day of availability from the Mac App Store. That's $29,990,000 worth of sales—and 3,490,000GB of Lion, if you're keeping score at home.
Lion includes more than 250 new features, among them support for full-screen apps, Auto Save, Versions, Resume, a slew of new Multi-Touch gestures, Mission Control, and Launchpad. It's also the first iteration of Mac OS X not to be made available on an install disc. At the moment, the $30 Mac App Store download is the only way to grab Lion, though Apple says a $69 USB stick edition of the OS will be available next month. The software is currently available in 123 countries around the world.
At this writing, OS X Lion sits as the top paid app in the Mac App Store, with an average rating of 4.5 stars from 9300 reviews.