F1 2010 from Codemasters was very well-received thanks to its well-balanced driving model, realistic weather system and in-depth career mode. A new iteration of the series will be with us in September of this year on PC and consoles. In the meantime, though, you can now show your skills on the go with the official iOS version.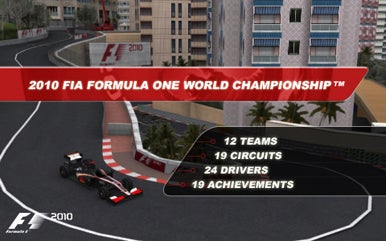 The iOS version, developed by Jump Games rather than Codemasters itself, is a cut-down version more friendly to quick play sessions. Rather than featuring full races, the game offers three modes to play: Time Trial, Endurance and Party Play.
Time Trial is a straight race around a circuit against a ghost car, with players' new times being recorded as new ghosts. Endurance is a time trial across several laps where their average, rather than total, time is recorded. And Party Play offers hotseat play for up to 4 players trying to beat each other's times.
The game features full Game Center and OpenFeint support for leaderboards and Achievements, and is available now from the App Store for $3. It's optimized for the iPhone and iPod touch, though it will also run on the iPad.