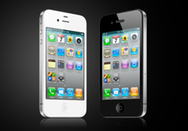 For the first time ever in the U.S., T-Mobile is now offering an official micro-SIM card. That's the precise type of SIM you'd need if you wanted to use, say, an unlocked iPhone 4 on T-Mobile's network.
Previously, using an unlocked iPhone 4 with T-Mobile required that you break out some sharp tools—or at least a SIM cutter. Now that T-Mobile's selling ready-made micro-SIM cards, however, such physical hackery will become a thing of the past, perhaps easing the way for consumers looking for an alternative to AT&T (the Verizon-compatible iPhone 4 doesn't use a SIM card and thus can't be used on T-Mobile's network). Apple began selling an official unlocked verison of the iPhone 4 last month; before that, unlocking could only be performed by first jailbreaking your iPhone.
If you're willing to ink a two-year contract with T-Mobile, your micro-SIM card is free. It's also worth noting that T-Mobile and AT&T's 3G frequencies are incompatible, meaning that the iPhone 4 will be limited to running on T-Mobile's slower EDGE network. Still, that apparently hasn't stopped customers: In June, T-Mobile reported that more than one million iPhones run on its U.S. network.
[via Cult of Mac]