A so-called "dot upgrade" of a major software product like Adobe After Effects may imply that it's not significant enough for you to jump on board until the next full version is released. If you think that, you are dreadfully wrong. After Effects CS5.5 boasts enough major new features and productivity enhancements to rival any full version software release.
Many of its new features and tools bring After Effects up to date with the demands of HD video DSLR post-production workflows. And for the first time, you can save your project as a previous (CS5) version for compatibility with clients and colleagues who have not upgraded.
Video production enhancements
One of After Effects CS5.5's most high-profile new features is the Warp Stabilizer, an effect that works to steady shaky footage. What seems like magic is actually some impressive technology that analyses frames in both directions while processing in the background, allowing you to continue working. The effect works great on handheld video that you want to give the appearance of being shot on a tripod or on a smooth dolly or Steadycam rig. It even has built-in lens distortion/aberration correction.
Accessing the new feature is simple: Selecting the footage layer in your comp; open the Tracking panel; and click the Stabilize button to begin processing.
Missing from After Effects CS5.5 (but present in previous versions) is the ability to select a point in the frame to stabilize around. As an automated process, the new Warp Stabilizer does not give you control over the scale or rotation from selected points.
While I missed the ability to define stabilization points at first, I quickly forgot about it once I dug into the parameters of the Warp Stabilizer effect. Yes, that's right—the Warp Stabilizer is an effect, which means you can turn it on or off just like any other effect on a footage layer.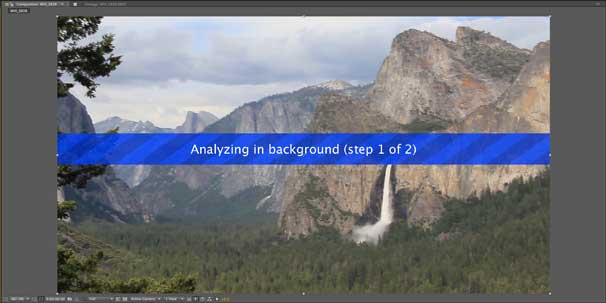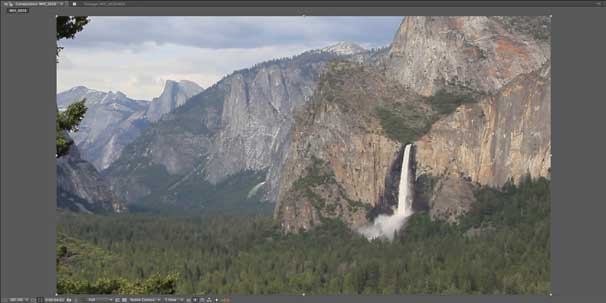 Stabilization also results in some automatic cropping of your footage by default, as would be expected, and it does save the step of having to rescale and manually crop your layer. But you can also select the Stabilize, Synthesize Edges option, in which the effect will attempt to use image data from previous and subsequent frames to fill in the blanks around the edges that would normally appear with the old Stabilize feature.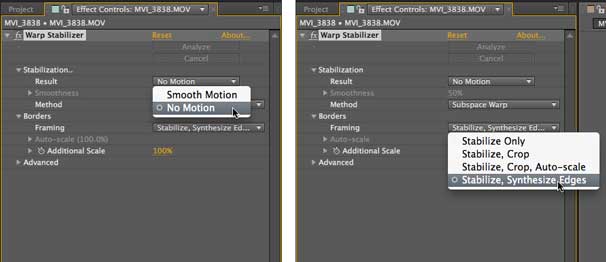 The warp part comes into play when trying to compensate for lens aberration and foreground object movement, which can make even a stabilized shot look odd. The Subspace Warp really tackles this problem well, which is great for lower-quality cameras and wide-angle lenses.
Another feature that will give the Indie filmmaker a lot of post-production Depth of Field (DOF) control is the Camera Lens Blur effect. This effect replaces the previous Lens Blur effect and also allows you to use a Blur Map to control the DOF. You can use the Roto Brush tool (introduced in After Effects CS5) to select your foreground images and create a matte. Then you can apply the Camera Lens Blur to your shot to create a simulated rack-focus effect. Changing the shape of your simulated Iris can create some beautiful in-lens effects on the highlights in your footage as well as realistic bokeh.
Imported footage now includes source timecode, which is extremely important for editors and VFX groups where people need to share footage file data and keep everything in sync. The source timecode data is displayed in the project panel and allows you to pinpoint specific frames, or to search and sort your footage files in a project. You can also use the Timecode effect to graphically display the timecode in compositions.
3D jumps in your lap
Stereo 3D camera rigs (paired cameras used to create stereographic 3D animations) are literally a click away in After Effects CS5.5. This isn't just an enhancement of the 3D Glasses plug-in but a true 3D twin-camera rig that generates stereo pairs. You can do your work onscreen with your red/blue glasses and export the left/right eye movies for a professional editing process.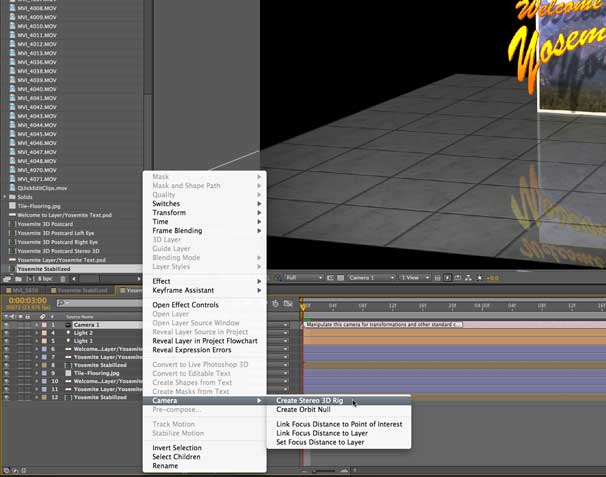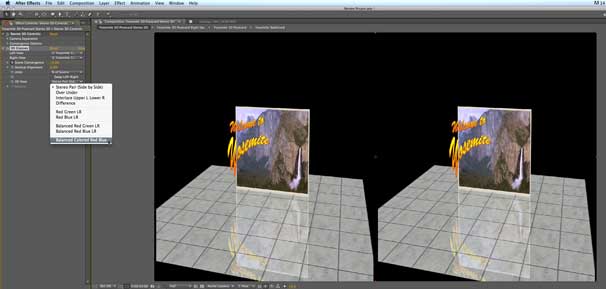 When selecting the Create Stereo 3D Rig option from the Camera layer in your 3D composition, it will generate three new comps and two new cameras for you automatically. And since it's expression-driven, you can still make any changes you want in your original 3D comp's camera, lights, and objects, and everything will stay in alignment in your stereo comp.
You can control the convergence of the cameras with the new enhanced 3D Glasses effect and even animate it over time. This is helpful for maintaining the stereo window when doing extreme zooms or moving objects in the frame.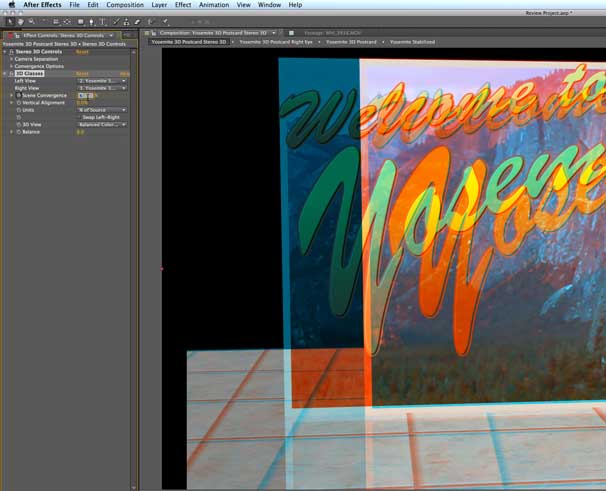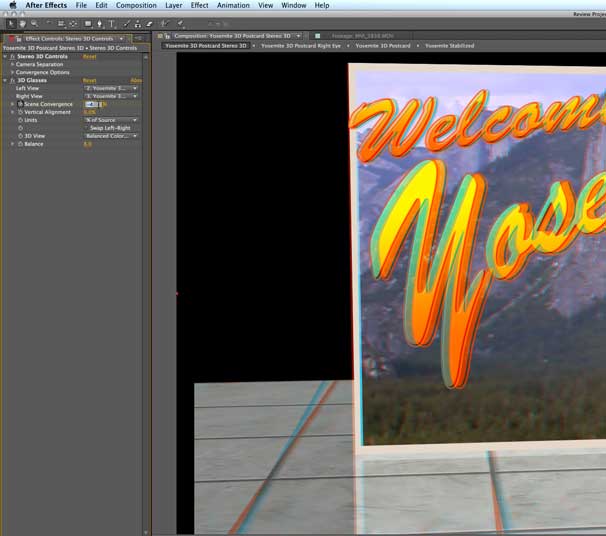 After Effects CS5.5's Light Faloff option allows better control of light in 3D compositions. Just like in the real world, not all light is a strong, constant beam that travels indefinitely and lands on everything in its path. Light falloff can be adjusted on any light (except ambient) so lighting your scene now has a much richer and realistic result.
One thing I've noticed with the Stereo 3D Rig option is that all the lights and shadows seem to be lost in the final stereo comp. However a workaround is to copy and paste the lights from your original 3D comp to both the left and right eye camera comps so your final stereo comp has the correct lighting and shadows. Hopefully Adobe will automatically include the lights to move along with the camera in future versions.
Plays well with others
Although After Effects CS5.5 is not completely backward-compatible, it is able to save a copy of your project as an After Effects CS5 project file. You can now share your projects with other colleagues or clients who haven't upgraded yet.
And while the effects (such as the Warp Stabilizer) will be disabled in After Effects CS5, the data is still retained. This will allow you to open a project modified in After Effects CS5 and the effects will still work in CS5.5. This is a great benefit for workgroups and teams working on multiple workstations that aren't all updated.
Improved compatibility with today's popular pro file formats makes the workflow for editors and VFX artists exist in harmony—with the ability to export RAW digital video from RED footage in CinemaDNG and XDCAM HD formats.
Other enhancements under the hood make After Effects CS5.5 work more efficiently, with better rendering and improved disk caching. Enhanced search and sorting functions within large projects help you better organize your media and comps.
Bottom line
I'm really pleased that Adobe didn't try to force out another full version of After Effects CS5.5 on a rushed schedule, as the enhancements in this dot upgrade are important, as well as very solid and stable. After Effects CS5.5 is a must-have for HD DSLR shooters and editors who have recently switched to Premiere Pro CS5.5, if only for the Warp Stabilizer on their hand-held shots.
[Jeff Foster has written and contributed to several books and magazines, and has been producing award-winning motion graphics, photography, and creative design for major corporations, television, and film for more than 20 years.]
Note: With the release of Lion, Adobe posted a tech note outlining some issues users may encounter with some of its Creative Suite applications. After Effects is not mentioned in this document. However, be sure to check the tech note on Adobe's website for updated information on how Adobe Creative Suite products interact with Lion.