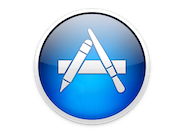 Apple has informed registered Mac and iOS developers that the App Stores for both platforms are now available in 33 more countries. As of these latest additions, the iOS and Mac App Stores can now be accessed in 123 nations around the world.
The newest places to join the App Store include Algeria, Angola, Anguilla, Antigua and Barbuda, Azerbaijan, Bahamas, Bahrain, Barbados, Belarus, Belize, Bermuda, Bolivia, British Virgin Islands, Brunei, Cayman Islands, Cyprus, Dominica, Ghana, Grenada, Guyana, Iceland, Montserrat, Nigeria, Oman, St. Kitts and Nevis, St. Lucia, St. Vincent and The Grenadines, Suriname, Tanzania, Trinidad and Tobago, Turks and Caicos, Uzbekistan, and Yemen.
Not every app is available in every international App Store, either due to licensing restrictions or the preferences of individual developers. However, the vast majority of apps will find their way onto the virtual store shelves of the App Store around the globe, so newcomers ought to have plenty of software from which to choose.
Residents of these 33 countries will, I suspect, be pretty pleased with this development. It can be very frustrating to own an iPhone in a country which does not have a local version of the App Store. As the U.S. store requires a U.S. credit card, and doesn't even allow PayPal accounts funded by cards from other countries, iPhone users in App Store-less countries have only the few default apps that Apple ships the device with and free Web apps.
Local versions of the App Store will finally allow customers in these countries to use their credit cards to make purchases, even though the prices on most of them will be listed in U.S. dollars and the language will be English. Additionally, the mere presence of the stores will likely help spur iOS and Mac developers native to these countries, not only by providing an avenue to sell their wares, but also by prompting them to develop apps that are specifically useful for their fellow citizens. And, of course, Apple and developers can expand its reach to a bunch of new potential customers.
So if you are reading this on an iPhone somewhere in Nigeria or while sunbathing in the Cayman Islands, fire up the App Store and start browsing. I'm sure you'll find something that catches your fancy.
[via Engadget]