Several prominent iOS-based e-reading apps received updates on Monday that removed one small, but important feature: To comply with Apple's latest policies on selling app content outside of the standard in-app purchasing API, the Kindle, Kobo, Google, and Nook apps all dropped in-app links to their Web-based ebook stores. And at least one significant e-reader has disappeared from the store entirely.
Specifically, the apps now comply with Apple's App Store requirement for purchasing external content:
Apps can read or play approved content (specifically magazines, newspapers, books, audio, music, and video) that is subscribed to or purchased outside of the app, as long as there is no button or external link in the app to purchase the approved content. (emphasis added)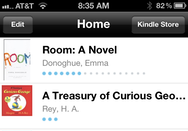 The guideline was first revealed as part of Apple's subscription plans in February, but the company later revised and clarified the rules in May. Still, the restriction has drawn fire from content vendors, in that it provides Apple's iBookstore—which boasts an in-app store—a leg up on competition. Third-party e-readers are left with three unappealing options: Remove their apps' links to stores; funnel all purchases through Apple's in-app system, which also necessitates giving Apple 30 percent of each book bought; or pull their apps entirely. So far, most of the popular e-reading apps appear to have opted for the first, likely both for financial and practical reasons (enabling in-app purchases for every title in the extensive Kindle catalog is probably more than just a small problem).
Amazon, for its part, tried not to let the removal of its Kindle Store button dominate the Kindle app update; the new version of the Kindle app also gains the ability to read newspaper and magazine subscriptions. Customers who already subscribe to eligible periodicals on their Kindle reader can now access those publications—in full color—on their iOS devices. Of course, you must go (independently! with no in-app link!) to the Kindle Store to subscribe to newspapers and magazines in the first place, after which you should be able to grab new issues from your Archived Items list.
The only advertised change in Barnes & Noble's Nook app is the removal of its store link; as for Kobo, it coupled the store link's axing with the introduction of a new in-app news feed to keep you apprised of the latest Kobo news. The Google Books app, meanwhile, vanished briefly from the App Store on Monday, presumably because it hadn't yet been updated to comply with Apple's requirements. Google's app now, too, lacks a store link; Google says only that the new version includes "minor enhancements and bug fixes."
Remember, you can still purchase books at the respective Web stores for most of these apps and read them on your device—you'll just need to find those stores on your own, instead of by tapping a provided link.
Updated 4:36 p.m. ET to reflect Google Books's return to the App Store.