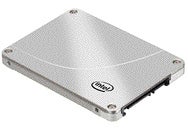 Intel on Sunday acknowledged that a bug could cause its SSD 320 solid-state drives to fail, and said a firmware upgrade is on its way to address the problem.
In some instances, a power loss may cause Intel's SSD 320 drives to crash and lose data. On rebooting the system, the system BIOS could report the SSD as having only 8MB of storage capacity. Intel two weeks ago said the error was possibly a bug, and that the issue was being investigated.
"Intel has reproduced 'Bad Context 13x Error' utilizing strenuous testing methods. This 'Bad Context 13x Error' can be addressed via a firmware update and Intel is in the process of validating the firmware update. A future update will define the schedule to deliver the firmware fix," an Intel spokesperson said in an email statement.
The statement has also been posted on Intel's forums, where users were complaining about SSD 320 drives crashing due to power issues. Some users in the forum are relieved that Intel had isolated the problem, and one poster said he would wait to install the drive only after the firmware was issued.
Intel said it will keep selling SSD 320 drives as only a small number of drives were affected, the company said. Intel recommended affected owners to contact customer service until the firmware was issued. An Intel customer service representative earlier this month said drives are being replaced for those who experience the error.
Intel's customer support contacts are listed on its website, and also live chat support.
Intel is also asking users to backup data regularly, follow standard shutdown procedures and to minimize the unplugging of SSDs on powered computers.
The SSD 320 received positive reviews after its release in March. The drive, which is being used in both PCs and Macs, comes with storage between 40GB to 600GB.
Intel has had issues with SSDs crashing in the past. In 2009 it pulled a firmware upgrade for its X25-M consumer SSDs a day after users complained about the software crashing drives.