Reader Adam Daly regrets the Safari he's just taken. He writes:
I just updated to Safari 5.1 and some of the important Safari extensions I use don't work. Is there a way to revert to the last version of Safari?
If you have a backup that extends back to the time that you had Safari 5.0.x I'd try restoring it from that backup. If not, follow along.
The first step is to find and download a copy of the old Safari installer. You're looking for the Snow Leopard version, which is 5.0.3. You won't find it on Apple's website—click any link to this older version of Safari on Apple's site and you'll be directed to Safari 5.1, which you already have. I scoured the Web with Google and found a copy. My best guess is that you'll be able to as well. (I won't provide a link because I fear it might disappear.)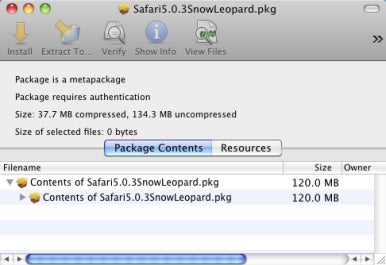 Once you have that installer, you'll discover that it won't work via the usual means. Launch it and you'll be told that it can't install because the version of the OS you're using isn't correct. (It doesn't matter whether you're running Snow Leopard or Lion, it won't install.) Instead, you'll have to turn to stealthier means in the form of CharlesSoft's $20 Pacifist. (You can run Pacifist in trial mode to do this, but if you find it useful I'm sure Charles would appreciate you pungling up for it.)
First, toss Safari 5.1 in the Trash. You may need to enter your Administrator's username and password to do this. Launch Pacifist, click its Open Package button, navigate to the Safari5.0.3SnowLeopard.pkg file you downloaded, and click Open. In the window that appears, select the Contents of Safari5.0.3SnowLeopard.pkg entry and click the Install button at the top of the window. In the sheet that appears make sure that Use Administrator Privileges is enabled and click the Install button. You'll be asked to enter your Administrator's username and password. During the installation you'll be told that some elements of the installation already exist. Choose the Update option.
When the process completes you should have a working version of Safari 5.0.3, which runs under both Snow Leopard and Lion. All the extensions that once worked with Safari should work again.